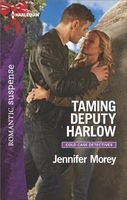 Series:
Cold Case Detectives
(Book 4)
To solve a forty-year-old murder in her remote mountain town, sheriff's deputy Reese Harlow needs advice from the best. That means finally meeting her biological father, the founder of Dark Alley Investigations. But after one passionate night with her dad's sexy head of security, Reese finds that her heart is at risk…
Jamie Knox has never met a woman quite like Reese. Determined to open her eyes to just how good they'd be together, he volunteers to help her crack this cold case. He can almost sense the wedding bells in the distance, but someone is dead set on stopping them from solving the murder…or getting anywhere near the altar!
Good book. Reese is a detective in a small town in Colorado, who has stumbled on some hidden money in a her new house. It leads to a decades old murder mystery, one she is determined to solve. She plans to use this case to meet the biological father she just found out about - Kadin Tandy of Dark Alley Investigations (
A Wanted Man
). When she arrives in Wyoming, one of the first people she meets is Jamie Knox, her father's new head of security.
Jamie spent several years in the military, then as a member of a private security firm. When he discovered that that firm was doing things he didn't agree with, he left, but only after dealing with some trouble the owner tried to cause him. He's living in New York City when Kadin comes to recruit him for DAI. Jamie decides that it would fit well with his desire to live a more normal life, including finding a wife and starting a family.
The sparks fly between Reese and Jamie from the moment they meet, but each reacts differently. Reese is attracted, but not interested in anything permanent. She has her future all planned out - do her best as a deputy, then become sheriff when the current one retires. She's quite happy to have a quick fling with him though. On the other hand, just a short time in her company has Jamie thinking that Reese might be the one he's looking for. The problem is convincing her.
I really enjoyed the development of their relationship. It's unusual to see a romance between a career driven woman and a man who wants to settle down. I loved some of their interactions, as his cheerful pursuit of her and optimism that he can change her mind, gives him a pretty positive attitude through most of the book. But Reese has been focused on her goals for so long that she doesn't know what to do with the feelings that he is stirring up. The more he tries to tempt her, the more she digs in her heels. In the end, he has to hope that love will win out over stubbornness.
The suspense of the story was really good. There was the money that Reese found in her house, and the discovery that a previous occupant had been murdered. When her house is ransacked, it becomes obvious that someone is very interested in that money. Then there is the question of who the murdered woman really was, and was there a connection to another missing woman. There is also the mystery of who has been shooting at Reese and Jamie. When the shooter is caught and there seems to be a connection to Jamie's past, is there a connection between that past and the mystery money and murder? The final confrontation is intense, with an unexpected consequence.
I also enjoyed the secondary story of Reese getting to know Kadin. Thanks to a less than emotional childhood with her adoptive parents, Reese is wary of Kadin's desire to get to know her better. I loved Jamie's efforts to smooth the way between them. It was a slow process, but Reese began to open herself up to Kadin and his family. I especially loved seeing Reese with Kadin's baby son.