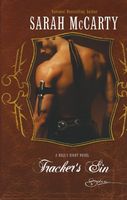 Series:
Hell's Eight
(Book 4)
WED BY NECESSITY...JOINED BY DESIRE
Before his trade became his name, "Tracker" Ochoa was a scrawny Mestizo runaway. Now as fearsome as he once was frightened, he's joined the notorious Hell's Eight...and they have a job for him.
He must rescue kidnapped heiress Ari Blake and deliver her safely to the Hell's Eight compound -- by any means necessary. Turns out that includes marrying her, if he means to escort her and her infant son across the Texas Territory. Tracker hadn't bargained on a wife -- especially such a fair, blue-eyed beauty. But the erotic pleasures of the marriage bed more than make up for the surprise.
Tracker's well-muscled bronze skin and dark, dangerous eyes are far more exciting than any of Ari's former debutante dreams. In the light of day, though, his deep scars and brooding intensity terrify her. But he's her husband and she's at his mercy. With the frontier against them and mercenary bandits at their heels, Ari fears she'll never feel safe again.
Tracker, too, remembers what fear feels like. Though he burns to protect Ari, to keep her for himself always, he knows that money, history -- and especially the truth -- can tear them apart.
Good book. Tracker is a member of the Hell's Eight "family" who have been working hard to find the missing twin sister of Desi, from Caine's Reckoning, who was kidnapped by Comancheros. All of them are also Texas Rangers. I have read two of the three earlier books, though not the first one. Fortunately, there has been enough backstory in each one that the story is easy to follow. Each man has a lead to follow in order to find Ari, with Tracker having a feeling that his is the right one. He is right, but things are not what he expected when he finds her. She is living quite happily with an elderly Mexican couple, who claim her as their daughter-in-law and her son as their grandson. However, she has no memory of her past, and Tracker is afraid to tell her the truth for fear of the effect it could have on her.
I liked both Tracker and Ari. Tracker is twin brother to Shadow (Shadow's Stand). Both are Mexican/Indian who suffered greatly as kids before they were taken in at Hell's Eight. He's a hard man, but is also very loyal to those he cares for. From the beginning of the search, he has felt a connection to Ari, one that he knows could destroy him if he let it. I loved his patience when he found her, as the sight of him brought a flashback to what happened to her. He's determined to get her back to her sister as soon as possible, no matter how he has to do it. I also liked Ari. She is much stronger than she gives herself credit for. Now that she is starting to heal, she has begun to have questions about the past she can't remember, and hasn't been entirely satisfied by the answers she gets. After their initial meeting, she discovers that she feels a sense of safety and trust when she is with Tracker, though she isn't sure why. I also liked how, with his help, she began to overcome the fears that periodically hit her.
I liked the development of their relationship. There is a definite and strong attraction between them, though Tracker tries to resist it. Because of who and what he is, he knows that a relationship with a white woman is sure to bring trouble to both. But the only thing that matters to Ari is how she feels when she is with him. Not to say there aren't some bumps along the way. With the bad guys breathing down their necks, the only way to get Ari to leave with him is to kidnap her, which she doesn't take well. Though once she is aware of the danger, she steps up and does her best not to slow them down. I loved how protective he was of her, and that she became just as protective of him. Ari is just as attracted to him and has far less interest in resisting. As a matter of fact, she becomes quite determined in her pursuit of him. I loved that his heritage has no effect on her feelings for him. There are several scenes where Ari brings out a softer side of Tracker, where he shows a depth of feeling he didn't know he could have. There are also a couple of really sweet scenes of Tracker with Ari's baby. When they make it back to Hell's Eight, Tracker is sure that Ari will see how impossible a relationship between them is, and is stunned when she continues her pursuit of him. I loved their big moment at the end, as they make their promises to each other.
Part of the story involves their escape from the men pursuing Ari and why they are so determined. As is revealed in earlier books, and expanded in this one, both Ari and Desi are heiresses of a fortune back East. Their kidnappings and abuse have been instigated by a crooked lawyer who is after their money. The men of Hell's Eight are determined to find the man and put an end to the threat. The pursuit of Tracker and Ari as they escape from Mexico to Hell's Eight was intense. The descriptions of the chase and the landscape were vivid, and I could practically feel the heat and hear the gunfire. When they got Ari to safety, then went after the lawyer, things did not go entirely as planned, with Shadow taking matters into his own hands.
There were also some deeply emotional moments as Ari and Desi were reunited. Thanks to the machinations of the comancheros who kidnapped them, Ari had been left thinking that she had been betrayed by her sister. It takes some rather forceful efforts by Tracker to get Ari to listen to Desi's side of the story. I ached for them both as they tried to find their way back to each other, and wept a few tears when their reconciliation was complete.
I loved the support that all the men of Hell's Eight give each other. Their teamwork is incredible, as is shown in the various confrontations they experience. Though none are "touchy-feely" with each other, they don't have trouble pointing out when someone is being and idiot emotionally. I loved seeing the ease with which those who have found love are able to show it, and provide the example for those whose turn is yet to come.