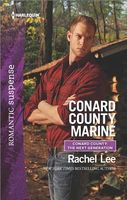 Series:
Conard County: The Next Generation
(Book 31)
The arrival of a single black rose signals danger to come for Kylie Brewer. Recovering from a brutal attack that claimed three years of her memory and her chance at a promising career, Kylie just wants to pick up the remaining fragments of her life. She returns to her hometown of Conard City to live with her sister but soon learns that putting the past in its place won't be easy.
Marine sergeant Evan Cooper -- a trusted family friend who agrees to help Kylie -- can't ignore his protective instincts. Or the steadily growing desire he feels for a woman who has overcome so much. He vows to help keep Kylie's demons at bay…but someone else has plans to finish what they started.
Very good book with excellent suspense and a sweet romance. Kylie was attacked and left for dead, the trauma leaving her with a three year gap in her memory. She returns to her hometown of Conard City to stay with her sister Glenda and try to put her life back together. She's nervous around people and plans to take some time alone to try to heal. She's shaken to discover that her sister has the cousin of a family friend staying with her, too.
Evan Cooper is on leave from the Marines and has come to visit his cousin Connie (
A Soldier's Homecoming
). With Connie's house full, Coop accepts Glenda's offer to stay with her. He notices Kylie's nervousness around him right away and tries to stay out of her way, but quickly finds himself drawn to her.
Kylie is understandably freaked out by her loss of memory and the underlying fear that whoever tried to kill her is still out there. It doesn't take long before her nervousness around Coop is replaced by a feeling of safety whenever he is near. I loved his incredible patience, understanding and tenderness around her. Coop has seen his own fair share of misery during the war and is able to use his own experiences to help her. When he steps in to provide her protection, the time they spend together allows them to get to know each other well. I especially loved how Coop shared things with her that he never talked about with others. I liked how he kept her protected but still encouraged her to push her limits.
There is also an intense attraction that affects both of them. Kylie is surprised to feel it, given her injuries and emotional distress. Coop tries to resist his, because of Kylie's vulnerability and the fact that he doesn't do serious relationships. I loved seeing how careful he was around her, trying so hard not to take advantage. The more time they spent together, the stronger it grew, as did the feelings that went along with it. I loved Coop's surprise as he started thinking in terms of a future with her. Kylie falls for his tenderness and understanding and the way she feels when she is with him. I loved the ending with the directness and honesty of how he expressed his feelings.
The suspense of the story was fantastic. Because we get the attacker's viewpoint at several points during the story, there is an added layer of intensity. Though his identity was revealed early on, I suspected him from the moment he appeared. The creepiness of how he used the children of the town to further his plans only added to the sense of complete evil that emanated from him. I thought it was interesting that Kylie's subconscious seemed to be warning her that she wasn't safe back in her hometown because the trouble hadn't been left in Denver. The final confrontation was intense. I liked how Kylie kept a pretty level head, enabling her to hang on until Coop found her.
One of the things I loved about the book was the amount of time and importance given to the effect of the war on Coop. It wasn't just his time over there, but also the trials of adapting to being back stateside. The description of his "graveyard" was especially moving. I also liked that there was some good included, such as the soccer games with the local kids.

The only issue I had with the book, and it had absolutely nothing to do with the author or the story, was a problem I have consistently noticed with Harlequin books. Their editors cannot get it through their thick heads that Marine is always capitalized. Coop was a Marine, not a marine. He is a member of the Marine Corps, not the marine corps. The Marine Corps is referred to as the Corps, not the corps. Grrr.