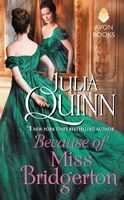 Series:
Bridgerton Prequels
(Book 1)
There were Bridgertons before the eight alphabetically named siblings. In this first of a new prequel series, we go back to where it all began...from New York Times bestselling author Julia Quinn.
Sometimes you find love in the most unexpected of places...
This is not one of those times.
Everyone expects Billie Bridgerton to marry one of the Rokesby brothers. The two families have been neighbors for centuries, and as a child the tomboyish Billie ran wild with Edward and Andrew. Either one would make a perfect husband... someday.
Sometimes you fall in love with exactly the person you think you should...
Or not.
There is only one Rokesby Billie absolutely cannot tolerate, and that is George. He may be the eldest and heir to the earldom, but he's arrogant, annoying, and she's absolutely certain he detests her. Which is perfectly convenient, as she can't stand the sight of him, either.
But sometimes fate has a wicked sense of humor...
Because when Billie and George are quite literally thrown together, a whole new sort of sparks begins to fly. And when these lifelong adversaries finally kiss, they just might discover that the one person they can't abide is the one person they can't live without...
I loved this book. I was very happy to see a return to the Bridgerton family, and intrigued to see that the new series explores the generation before the orginal series. Though someday I'd like to see the Bridgerton children too. This is the story of Billie (Sybilla), the oldest of the Bridgerton siblings. She is twenty-three and has lived most of her life on the family's estate in Kent. She never had a London Season because of an unfortunate incident at her Court presentation, but that's fine with her. She's happiest when she's riding about the land (in her breeches), supervising planting and harvests and checking on tenants. As the only child for so long, she took on the role of a son to her father, learning the estate's management, and has continued to help until her younger brother is old enough to take over. She is smart and sassy, has no problem expressing her opinion, is loving and loyal to her family, and tends to be just a tad impulsive/reckless. Her best friends have been Mary Rokesby and her two brothers Edward and Andrew. They all ran pretty wild together as children, and still have a close friendship. Billie expects she'll marry either Edward or Andrew someday. Her relationship with the oldest brother, George, is more contentious. She always feels that he's judging her, and reacts by teasing him whenever possible.
George is the oldest, and as the heir, spent most of his childhood in training for his future duties. He never really had the chance to run around like the rest of them. He is quiet, always aware of his responsibilities, but would do anything for his family. While he loves his home and the land, there's a small part of him that is envious of his brothers ability to join the military and fight for King and country.
I loved the beginning of the book. Billie has gotten herself into a predicament - she is stuck on the roof of a building and has sprained her ankle. She hopes that someone will come along soon who can help her get down. Unfortunately the first person to show up is last one she wants to see - George. The encounter is pretty funny, with each giving as good as they get in attitude. Through yet another mishap, George ends up stuck on the roof with her, until his brother Andrew comes along. It's during this forced time together that George comes to a rather startling realization. He is attracted to Billie, absolutely the worst person he could choose as a bride. But he starts to see that there's more to her than the hoydenish bane of his existence. Billie also feels something unexpected around him and isn't sure what to make of it. She's never paid attention to his features or his build before, but the kindness and sympathy that emerges has her looking at him differently. The usual banter continues between them that evening, but there is also something different about it.
I loved the progression of their relationship. They have spent so long as antagonists that both are a bit confused as to why they suddenly want to spend more time together. Their arguing and teasing continues, but there is a different feel to it. I also enjoyed how their fascination was demonstrated in the way they would sneak looks at each other, find ways to touch each other. Billie's mother's decision to have a house party threw them together even more. I loved seeing the jealousy that popped up, especially in George. For such a calm and normally reasonable man he had some pretty amusing reactions to the men who showed an interest in Billie. She wasn't too far behind in her reactions to other women, especially one. The Pall Mall (croquet) game she instigated was pretty funny.
But just when things were starting to get interesting, disturbing news for the Rokeslys arrives, ending the house party. I ached for their pain, and George's worry about his father that put more responsibility on his shoulders. I loved how Billie was there for all of them, but especially worried about George. It was funny to see his mom find a way to get Billie to London with them. Billie is hoping to be able to just stay in the background and be support, but his mom has other ideas. Billie is terribly worried about making an appearance at the ball because of her lack of experience. George plans to be there to help her through it, something comes up that prevents it. While this could have been a huge misunderstanding to create drama, they deal with it quite differently, with the resulting realization that they belong together. The final scene is great, with George doing his best to keep Billie from another reckless action and discovering that all it takes is to tell her why. I loved the depth of his emotion as he expressed it and the effect it had on Billie. I loved his mom's reaction which honestly didn't surprise me at all. I had seen those wheels turning early on in the book.
I'm really looking forward to the rest of the books in the series. Georgiana especially intrigues me, even though she's still young. She has spent so long being somewhat ignored by the others that she's bound to make her presence known in some spectacular way. I'm also looking forward to Andrew's story. He is such a rogue and a flirt that he needs someone who will lead him on a merry dance.