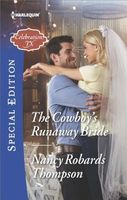 Series:
Celebration TX
(Book 1)
And the bride wore…running shoes?
Publicly shamed by her former fiancé, Lady Chelsea Ashford Alden has fallen from grace and her intimate life has become fodder for the British tabloids. On the run from the paparazzi, there's only one place for the errant aristocrat to wait out the scandal: her best friend's cottage in Celebration, Texas…
Instead of foiling a burglar, rancher Ethan Campbell startles a gorgeous blonde in the bathtub! Chelsea covers up…her true identity. But not her sizzling attraction to the tall, dark and hunky cowboy. Ethan has loved and lost, and until Chelsea, he never thought he'd love again. But he doesn't know her secret, and if she reveals the truth, he might be the one to run this time around.
Good book with a fun beginning. Chelsea has had a bad run-in with the paparazzi and needs to get out of England for a while. Her best friend offers her house in Celebration Texas. But when she gets there, Juliette is away and has forgotten to leave the key out for her. What's a girl to do, but try to get in through an open window...
Ethan is Juliette's neighbor and knows that she's away. When he sees a strange car at the house, he stops to investigate, and arrives inside just in time to see Chelsea fall through the bathroom window. Though ready to call the cops on her, Ethan listens to her explanation and confirms the story with Juliette. There's something about her that gets his attention, but he's also pretty sure she's hiding something, so he plans to keep an eye on her.
I loved the development of their relationship. There's no denying the attraction between them, but both Chelsea and Ethan have been burned before. Chelsea's in this mess because her ex-boyfriend secretly made a sex tape of them and sold it to the tabloids, putting her in this mess. She's not in a big hurry to trust another man. Ethan has his own demons. He married young to a woman who ended up wanting different things than he did. He's not anxious to make the same mistake with Chelsea. They are thrown together when Chelsea agrees to help his younger sister Lucy turn an old barn into an event venue. The sparks between them flare as they find more reasons to be together.
I loved seeing them get to know each other. Chelsea is especially good at getting Ethan to talk about his past. He's learned to cope with his issues by burying himself in his work and routine, but Chelsea has him looking at taking a chance on love again. I loved the way that Chelsea uses her own experiences to help Ethan learn to let go of his control on his sister Lucy. But as much as she is falling just as hard for Ethan, she knows she has to tell him the truth. And when she does, what will happen then?
I ached for Chelsea and the problems she was having. The betrayal by the ex, the stalking by the photographer and hounding by the tabloids, and worse, the attitude of her family put a real dent in her self-confidence. She's also protective of those she cares about, and when trouble found her again, she was determined to leave before it could affect Juliette, Ethan and the others. I liked that she had the courage to tell Ethan the truth and was a little mad at how he reacted. The ending was sweet and romantic.
The secondary characters are great. I really liked Ethan's sister, Lucy, and her determination to convert her barn. She's made her own mistakes, but seems to have learned from them. It was great to see her standing up to Ethan and his attempts to discourage her. I did have a little trouble with her actions when she recognized Chelsea, but that passed pretty quickly. I also liked Juliette and her unquestioning support of Chelsea. It was fun to see her and Lucy pushing Chelsea and Ethan together.