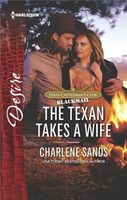 Series:
Texas Cattleman's Club: Blackmail
(Book 11)
A temporary tryst with a sexy Texan…no problem, right?
All it takes is a daring out-of-character ride on a mechanical bull to send Erin Sinclair straight into the arms of one fine-looking cowboy. With Royal, Texas, on edge over the criminal targeting their secrets, she needs to blow off steam.
Dan Hunt is happy to give the ex-nanny the time of her life, but the rich rancher insists he doesn't do relationships. With Erin leaving Royal in a matter of weeks, why not have a no-strings affair? Even if it feels like it could be the commitment of a lifetime…
Good book. Erin came to Royal from Seattle to work as a nanny. That job ended when her employer fell in love, so Erin is at loose ends until she returns to Seattle at the end of the year. After a night out with friends at a local bar, Erin decides to try a ride on the mechanical bull. She quickly finds herself flat on her back, staring into the eyes of a big, hunky cowboy.
Dan was more than happy to be the one to pick Erin up. He'd noticed her earlier and been drawn to her. As he walked her to her car, they witnessed a dog get hit by a car. As they work together to care for the dog, attraction simmers between them. They fall into bed together for a night of passion, but reality hits the next morning. Dan makes it clear that he doesn't do relationships and since Erin is leaving soon, they leave it at that.
But neither can forget the other. When Erin agrees to help her friend Chelsea in her investigation into the person blackmailing members of the Texas Cattleman's Club, she discovers that Dan is Chelsea's brother. As the two work together to help Chelsea, they find themselves combining investigation with passion as the attraction burns between them.
I enjoyed the development of the relationship between Dan and Erin. Besides the obvious physical attraction, it was clear that they liked each other. I loved their time together riding, taking care of Dan's many rescued animals, and just being together. As time goes on, Erin realizes that her feelings are more than a fling and that she wants more from Dan. A pregnancy scare brings home just how far apart they are. Dan likes being with Erin, and he's happier than he's been in a long time. But he doesn't believe in happy-ever-afters thanks to his mom's abandonment of the family. I ached for them both on Thanksgiving Day, as Dan witnesses Erin's joy at her friends' engagement and her happiness holding baby Faye, and realizes that he can't give her what she needs. As his guilty feelings over hurting Erin begin to build, he distances himself emotionally. I liked Erin's strength as she left early for her new job as a way to end things with Dan quickly and cleanly. I hurt for them both as their unhappiness at being apart was obvious. I loved Chelsea's sneaky way of getting Dan to face his fears and realize the truth of his feelings. His big moment at the end was awesome, especially considering his strong and silent personality.
There is more progress on the search for the blackmailer known as Maverick. Though a couple of leads didn't work out, at the end there is one that looks quite promising. I am looking forward to the next and final book in this series and the resolution of the mystery.