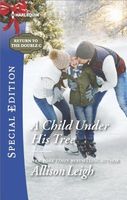 Series
Return to the Double C
(Book 12)
'Tis the season for second chances…and secrets!
Forget the mistletoe maneuvers. Kelly Rasmussen isn't planning on having that reunion kiss with Dr. Caleb Buchanan any time soon. Things had long ago gone south for these former high school sweethearts. Except for that one night six years ago -- which resulted in an explosive secret Kelly's kept till this very day.
Now career and family have brought them both back to Weaver, Wyoming. Their unavoidable clashes -- and instant chemistry -- make them realize this town isn't big enough for the two of them. Or three of them -- counting Kelly's son. Because there's something about that little boy… For one thing, he has Caleb's eyes…
Good second chance story. Kelly and Caleb had been high school sweethearts, but when Caleb went away to college he ended his relationship with Kelly in favor of another pre-med student, breaking Kelly's heart. The book opens several years later. Kelly and Caleb had a brief encounter that didn't end well, and Kelly is pregnant. Her mother, a real piece of work and doesn't know about the encounter, wants Kelly to try to pass the baby off as Caleb's because "those people take care of their own" (meaning her). Kelly isn't about to force a marriage of obligation on Caleb, having suffered her mother's resentment all her life. So she packs up and leaves home, swearing to give her baby a better life.
Six years later she has come home to settle her mother's estate, bringing her son Tyler with her. An unexpected trip to the clinic brings Kelly and Tyler face to face with Caleb, who she did not know was back in Weaver. She is very nervous because she never told him about Tyler. Caleb is pretty oblivious because Kelly's mom put out the story that Kelly had eloped and had a baby after leaving Weaver. However, there are definitely some sparks flying between them, and it isn't all anger.
Kelly and Caleb have a lot to overcome before they can have a future together. Kelly still holds a lot of anger and hurt over the way that Caleb had dumped her all those years ago. She had been waiting at home for Caleb and he had been with another girl. It didn't help that Kelly's mother was always down on her, telling her that she wasn't good enough for him. Now she also feels guilty that she didn't tell him about Tyler. Caleb has his own guilt that he has to deal with. Now that he's older, he realizes what a jerk he had been and how badly he had behaved. His reaction after their truck encounter also left him with another reason to feel guilty.
I did enjoy seeing Kelly and Caleb get to know each other again. Kelly's fears had her trying to keep Caleb at a distance, but Weaver is a small town and they see each other frequently. I loved seeing the connection between Caleb and Tyler (right down to their mutual dislike of carrots), which made it more difficult for Kelly to avoid him. There were some really sweet scenes between Caleb and Tyler. Every time he and Kelly meet, the attraction burns a little hotter. Caleb, especially, remembers the things that drew him to Kelly to begin with, and her new confidence and maturity make her even more attractive to him. I liked those times when Kelly could forget the past and allow herself to enjoy Caleb's company. However, the secret of Tyler's birth began to wear on her and she finally blurted out the truth.
This is where Caleb lost me a bit. I understood his initial shock and anger. That was logical and believable. But then he turned controlling and threatening, not even attempting to look for a compromise. I so wanted to grab him and shake him, especially during the confrontation at the hospital. It was so sweet seeing Tyler stick up for his mommy. I ached for Kelly with the solution that Caleb finally arrived at, because she never wanted to be an obligation, and that's all she could see. But she wanted what she thought was best for Tyler, so she put her own needs aside. There were some sweet scenes with Caleb and Tyler, but I continued to want to pound both of Caleb and Kelly because they constantly believed the worst of each other. I liked Caleb's big moment at the end, when he finally figured out his feelings and what he had to do to make things right with Kelly.