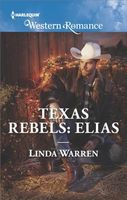 Series:
Texas Rebels
(Book 7)
FIRST LOVE, SECOND CHANCE
Maribel McCray knew moving back to Horseshoe, Texas, would mean facing Elias Rebel, the cowboy she was forbidden to love in high school. She just didn't expect it to happen so soon. With her teenage son, Chase, in trouble, she needs Elias's help. He may be a Rebel, sworn enemy of every McCray, but he's also Chase's father.
For the lone bachelor of the Rebel clan, there's only one way to make up for lost years with his son -- become a family for real. But Maribel's distance runs deeper than the Rebel-McCray feud. Elias won't settle for a marriage of convenience with the woman he's falling for again. How can he convince Maribel some second chances are worth taking?
Excellent conclusion to the series. Elias is the last of the Rebels left unmarried. In the previous books, he has been shown to be the brother who works hard and plays hard. He can be a little on the short-tempered side, seemingly enjoying a good fight when the opportunity arises. At the beginning of the book, Elias gets roped into helping the sheriff watch for some kids who have been stealing beer around town. He's there when three teen boys take their chance and helps catch the one who tries to run. He is surprised to find out that it is Maribel McCray's boy.
Maribel and Elias had known each other in high school. Because of the feud between their families they were told to stay away from each other. She left Horseshoe before graduation, escaping from an abusive father. Now she has come back, along with her teenage son. Maribel had been living in Dallas with a friend who died, forcing Maribel and Chase to find another place to live. Then Maribel lost her job and they came home to Horseshoe to live with her sister until she gets back on her feet. Her son Chase is not happy about the move and has been getting into trouble, hoping to force Maribel to move back to Dallas. His latest stunt has gotten him into trouble with the law and Maribel is desperate to get help with him - to the point of asking the boy's father for help. The problem is that Chase's father doesn't know about him.
To say that Elias is stunned by Maribel's news would be putting it mildly. It was fun to see Elias process that news. I loved the way that he immediately stepped up to provide the guidance that Chase needs. Both Chase and Maribel try to fight it, but quickly realize that Elias isn't going anywhere. Theirs isn't the only resistance. Elias is flabbergasted by his mother's reaction to the news, which creates some unexpected family drama. I loved Elias's firm but fair treatment of Chase and the difference it made to Chase's attitude. Though Chase was certainly antagonistic at first, it didn't take long for him to come to respect and like Elias.
The rekindling of the relationship between Elias and Maribel was a slow and steady process. Elias starts out with the determination to take care of Maribel and Chase. The purchase and renovation of a house for them was the first step. With the three of them working together it gave them all a chance to get to know each other. Elias is pretty quick to realize his feelings for Maribel are growing. Maribel suspects that hers are too, which scares her. Thanks to her past, she has turned her back on love, believing that she doesn't want any part of the kind of love that she witnessed. Though she agrees to marry Elias to make the family they feel they need, she makes it clear that deep emotion will never be part of the equation. But Elias has something else in mind and works hard to show her what they could have together. It takes a friend to give Maribel a different point of view and help her realize that she was letting the past dictate her future and chance for happiness. But it takes a near disaster for her to finally let go of the last of her fears and open herself up to Elias's love.
Family dynamics played a huge part in this book. I loved the support that Elias received from his brothers and their wives. The surprising development was the attitude of Elias's mother, Kate. As she had accepted the other two McCray's into the family, I was stunned by her vicious attitude toward Maribel and her threats to Elias if he went against her wishes. I ached for Elias, who felt betrayed by her and hoped to see Kate come to her senses. I loved Elias's grandfather and how he connected with Chase. It was interesting to see the reaction of Maribel's father when she came back to Horseshoe. I loved Elias's protectiveness toward Maribel during that scene. I have enjoyed seeing the younger generation make it clear that the feud has no place in their lives any longer. There was a surprising and heartwarming scene at the end that gave hope for the future of the two families.
I have really enjoyed this series and can't wait to see what is next for this author. I admit that I would love to see Jericho get a story of his own. He has been a steady presence throughout the series and deserves to find his own chance at happiness.