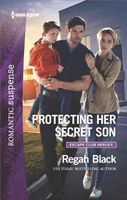 Series:
Escape Club Heroes
(Book 3)
After escaping a world of ruthless crime with her child, Shannon Nolan finally thought she'd left her nightmares in the past. Then the worst thing she could imagine happens: her son is kidnapped! With nowhere else to run and no one else to trust but her boss, she puts her life in Daniel Jennings's hands.
Firefighter Daniel knows Shannon is safe under his protection, but the one threat he doesn't want to face is his growing passion for her. Moreover, she's vulnerable and isn't searching for love. But as they put everything on the line to rescue her son, that very connection might just be what saves them all…
Excellent blend of suspense and romance. Shannon had escaped an abusive marriage and moved to Philadelphia, where she changed her name and started a new life for herself and her son. She now has a good job with Jennings Construction and is happily raising her son Aiden. She has even allowed herself to have a bit of a crush on her boss, Daniel, not that anything could come of it. She is always aware that her ex is out there and could come looking for her. Then her worst nightmare comes true and Aiden is kidnapped from the sitter's house. In her panicked state, she turns to the only person she can trust - Daniel.
Daniel has been watching Shannon for a long time. He's impressed with her devotion to her son, her work ethic, and her friendliness, not to mention her beauty. He has just about gotten up the courage to ask her out when the kidnapping occurs. He follows her home knowing that she shouldn't be alone. When he finds out what is going on, he knows just who to call for help.
I loved Daniel. As a firefighter he's used to remaining calm in a crisis and that ability is desperately needed. I loved how he was able to take charge without steam-rolling over Shannon; he was sensitive to her fears and her need to do something. He's not perfect, as he has some issues of his own going on. He is a firefighter to the bone, but he is also a Jennings and involved in the family construction business. There is a major conflict between Daniel and his father, who wants him to give up firefighting and take over the business. The relationship between the two men is definitely strained at times.
I really enjoyed the balance of suspense and romance in the book. The intensity of the search for Aiden started at the beginning with Daniel's involvement with the Escape Club. I loved each twist and turn as Daniel and Shannon raced to find Aiden. There were odd demands that led Shannon to figure out who was behind it and the unexpected revelation of why. The scene at the pier warehouse had me on the edge of my seat until it was over, but there were still threats hanging over Shannon's head. The final confrontation was intense and really showed the strengths of both Shannon and Daniel.
I loved the development of the relationship between Shannon and Daniel. The attraction was there from the start with each very aware of the other. The kidnapping gave Daniel the chance he needed to spend time with Shannon. Shannon was so overcome with fear for Aiden that it took Daniel's calmness to break through and help her focus on what needed to be done. I loved seeing them get to know each other and develop a friendship. I liked how they shared everything from their struggles to their dreams, finding that they had a lot in common. I loved Daniel's determination to keep Shannon from running and find a way to keep her in his life. I ached for Shannon and how sure she was that there was no way she would be able to stay after she got Aiden back. Once Aiden was rescued, I loved seeing the instant connection between him and Daniel. The two of them together were adorable, and I could see the effect it had on Shannon. The attraction between Daniel and Shannon kept building also, and added to the feelings that grew between them. The question became one of whether Shannon would have the courage to stay and fight for the future she wanted. I loved the ending and the surprise offer that was the icing on the cake of their happiness.