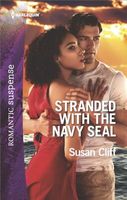 Series:
Team Twelve
(Book 1)
For one navy SEAL, danger and passion are brewing in paradise
Working on a cruise ship was supposed to be the perfect distraction for chef Cady Crenshaw. Instead, it made her the perfect target. Abducted and thrown overboard into foreign waters, she has only one shot at survival…and it comes at the hands of an irresistible ally.
Navy SEAL Logan Starke's protective instincts were locked and loaded the moment he met Cady at the ship's bar. When a violent struggle to take down her captors leaves Logan and Cady stranded on a deserted island, he leaps into rescue mode. But the hot sand and the even hotter attraction between them can't be denied…and temptation could be the deadliest threat yet.
Good book, though a little different than the romantic suspense that I am used to. The parts I considered "suspense" happened at the beginning and the end, with the middle being a very good survival story. Logan is onboard a cruise ship near Tahiti, where he was supposed to be acting as a bodyguard. However, the client canceled, and he decided to take the trip anyway. He is recovering from an injury received on duty and looks forward to a little rest and relaxation. He also wouldn't mind a little female companionship.
Cady is a chef on the cruise ship. She took the job as a distraction after her ex cheated on her. She is normally a very cautious person, but she picks this night to step outside her comfort zone and sets her sights on Logan. Some conversation and a couple of dances later the sparks fly between them, and they head for his cabin. That's when things go haywire in a big way. Logan is attacked and thrown overboard, and Cady has a bag thrown over her head and is taken off the ship onto a raft.
I loved how Logan's instincts and training kick in even when he's injured and dazed. It doesn't take him long to decide that the only course of action is to swim after the kidnappers and save Cady. The action was intense as Logan worked to get them safely off the boat, only to find themselves floating helplessly in the middle of the ocean. The description of their time on the raft was so vivid that I could almost feel the sun's heat myself. The scene with the shark was terrifying and realistic. I found myself wondering how much more they could take before finding land.
I enjoyed the development of their relationship as it progressed under such challenging circumstances. Cady is understandably freaked out at the beginning. She is so intent on avoiding risk in her life that she has no idea how to handle their circumstances. Logan, thanks to his training, is cool under pressure and knows how to keep them alive. Once Cady breaks free of her panic, I loved seeing her rise to the challenges that Logan gave her. The two of them have to work together to survive, but it isn't always easy. There are some terrific scenes of the two of them butting heads as Cady stands up to some of Logan's caveman moments. Logan's protectiveness can be a little excessive, intensified by some things that happened during his most recent mission with the SEALs. His personal code of conduct tells him that giving in to the attraction between him and Cady would be wrong while he is responsible for her safety. Cady's fear of risk frequently causes her to accuse Logan of purposely doing dangerous things when he's only trying to take care of them or find a way off the island. All the while the heat between them continues to build until they can no longer resist it. Those scenes are intense and the connection between them is far deeper than either expects.
All the time Logan and Cady are on the island they are on the lookout for planes or boats that could provide a rescue for them. They also fear that the men who kidnapped Cady could track them down. When that happens, they once again have to fight for their lives. Thankfully, Cady has changed a lot in the last six weeks, and the outcome this time is different, though no less intense. I enjoyed their arrival back in civilization and had to laugh at their dinner choices for their first meal off the island. They still have some things to work out before they have the future that each of them dreamed of. I really enjoyed the ending with its two unexpected events. I can't wait to read the next book in the series.