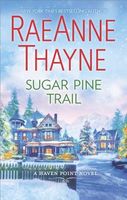 Series:
Haven Point
(Book 7)
Librarian Julia Winston is ready to ditch the quiet existence she's been living. She's made a list of new things to experience, but falling for Jamie Caine, her sexy military pilot neighbor, isn't one of them. Julia's looking to conquer life, not become the heartbreaker's latest conquest. But when two young brothers wind up in Julia's care for the holidays, she'll take any help she can get -- even Jamie's.
Happy to step in, Jamie reveals a side of himself that's much harder to resist. Not only is he fantastic with kids, he provides the strength Julia needs to tackle her list. She knows their temporary family can't last beyond the holidays, but the closer she gets to Jamie, the more she wonders if things could be this merry and bright forever…
Very good book with a roller coaster of emotions. The story opens with Julia, a shy, quiet librarian, watching nervously as the person she has rented her upstairs apartment to arrives. Her gut feeling is that she has made a terrible mistake, as it is none other than Jamie Caine, local heartthrob and the man she's had a crush on for years. But she is determined to take charge of her life and not let her fears hold her back.
Jamie is the corporate pilot for Caine Technologies and spends his days flying people all over the country and the world. He has quite the reputation with the ladies as a charming flirt who will never commit but is fun to be around. He is very careful not to lead anyone on.
I loved his first evening at the house when he came across Julia after the end of her book club meeting. She was a little the worse for wear thanks to the drinks that had been served. She no longer seems quite so starched and stiff, and Jamie is intrigued but determined to keep his distance. Julia's life is about to change dramatically though, as she discovers that two young boys who have been spending a lot of time in the library are living on their own because their mother is missing. After calling a friend who is a social worker, Julia finds out that the boys will likely be sent to separate foster homes. Horrified by the idea, Julia offers to keep them herself.
Julia is way out of her depth but determined to do her best. Things are rough at first because Clint and Davy resent being removed from their home, in spite of the conditions they were living in. Luckily for her, Jamie is part of a large family with lots and nieces and nephews, so he has lots of experience in kid wrangling. I loved watching him connect so quickly with them. It isn't long before he is captivated by the sweet and kind woman under Julia's starchy exterior. As Jamie spends time helping Julia with the boys, she sees a different side of him, one that is far too appealing to her.
I loved seeing the development of their relationship. Jamie is protective of her, something that comes out when he comes to her rescue when she has the flu. He is surprised by the depth of his need to take care of her. I loved his reaction to her bucket list, and how much he wanted to help her achieve those dreams. What he didn't expect was how much he enjoyed bringing that kind of happiness to her life. But no matter how much he likes her, he won't allow himself to let it go too far because she deserves someone much better than he is. Jamie is haunted by some things that happened in his past that have convinced him that he doesn't deserve the kind of happiness that having her in his life would give him.
Once Julia gets over her tongue-tied reactions when Jamie is near, she discovers that he is a wonderful man. Watching him with the boys melts her heart and makes her wonder why he doesn't have a family of his own. I loved how quickly she tumbled onto the realization that he uses his charm and his killer smile to distract when he doesn't want to talk about something. I loved seeing her call him on it when he tries it on her. She knows that she is well on the way to falling for him, which will get her a broken heart. After all, a man like him isn't really going to be interested in a plain, small-town librarian.
I loved the time they spent together, with and without the boys. The ski lessons were great, especially Jamie's "rewards" for helping her up when she fell. The charity gala was incredible and I loved seeing Julia bloom under the attention of various members of Jamie's family. I ached for her when she was confronted by that woman and loved that she was able to get Jamie to open up to her about what had happened. I loved her support and how she tried to make him see that he wasn't responsible.
I loved the way that Julia, Jamie, and the boys started to feel like a family. I cried when they received unexpected visitors right before Christmas and the change it brought to Julia's life. I hated seeing her push Jamie away when he wanted to comfort her. I loved that he finally figured out how he felt about Julia and ached for him when she refused to believe him. I wondered what it was going to take for her to see and accept the truth and loved that it was something so simple and sweet. I loved the ending as Julia opened her eyes and her heart and took a big chance. They brought me to tears and made me smile with the depth of their feelings. The epilogue was fantastic, especially with the completion of Julia's list. Jamie was adorable with his attempt to appear innocent. The love and happiness they felt simply glowed.