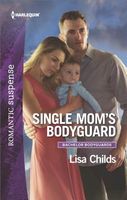 Series:
Bachelor Bodyguards
(Book 6)
Emilia Ecklund hears her child cry when he's smiling. She sees intruders where there are none. She's either losing her mind -- or someone wants her to think she is. Desperate, she asks her brother's best friend, former Marine and Payne Protection Agency bodyguard Dane Sutton, to investigate. But the only way is for him to move into her home…and bed.
Dane's secret mission: to pose as Emilia's boyfriend while watching every door and window like a hawk. He vows to keep things purely professional, but he's severely tempted as his feelings intensify. And as the threats escalate, the guarded loner has everything to lose.
Very good book, action-filled and intense from the start. Emilia is trying to get her life back together after being kidnapped and nearly losing her baby to an adoption ring. She has a good job helping Penny at the wedding chapel, and her brother is finally letting up a little on his overprotectiveness. Then strange things begin to happen. Emilia hears a baby crying while her son is fast asleep, windows that she knows she locked are left open, and she hears footsteps in her house. She starts to wonder if she's losing her grip on reality. Desperate for answers, she asks Dane for help.
Dane is her brother's best friend and also a former Marine. His past has convinced him that he isn't cut out for love and family, and all the new relationships around him have him a little freaked out. That he is drawn to Emilia bothers him even more because she's his best friend's sister and that's against the rules. But he can't say no when she comes to him for help.
I loved the development of the relationship between Emilia and Dane. Though he tried to deny it to himself, he was drawn to Emilia before he even met her, because of how much Lars talked about her. I loved how he sensed that there was something going on with her even before she asked for his help. Emilia was also drawn to him and he was the first one she thought of when she was so frightened. Dane's idea for moving in and pretending that they had a relationship set him up for having to face his feelings. I really liked the way that Dane believed in Emilia and didn't give in to the doubts that others raised. Dane's faith in her also gave Emilia the strength to stand up against the fear that threatened to overwhelm her. Emilia's feelings for Dane also grew quickly. I loved seeing her get between him and Lars when they were macho idiots. She was also just as protective of him as he was of her. I ached for her at the end, when she was certain that Dane didn't want her. The ending was sweet, as Dane exposed his vulnerability in his talk to the baby. I loved seeing both Emilia and Dane let go of their pasts and embrace their future.
The suspense of the story was fantastic. The attempts to make Emilia think she was crazy were really creepy and gave me goosebumps. As the attempts turned physical, I was glued to the pages waiting to see what would happen next. The brief glimpses into the mind of the attacker increased the intensity as it became obvious that nothing would make him give up on his goal. The final confrontation was a real nail-biter as Emilia put herself in danger to save Dane and bring the threat to an end. The culprit was not who I expected and I loved that it was Emilia who figured it out.
I loved the relationships that were highlighted in the book. The love that Emilia and her brother Lars had for each other was never in doubt, nor was Emilia's frustration with his attitude toward her. It was great to see her finally get through to him, with some pretty amusing confrontations. I also loved seeing more of Lars and Nikki and her attempts to rein him in regarding Emilia and Dane. I especially enjoyed the scenes with Manny and can't wait to read his story. I have a feeling that he's going to fall hard as well.