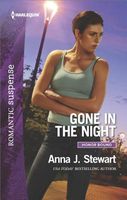 Series:
Honor Bound
(Book 3)
Psychologist Allie Hollister is still haunted by the unsolved death of her childhood best friend. She never expects her past to meet her present when a young patient is abducted and the cold case is reopened. Allie knows she shouldn't get involved, but the child's uncle, firefighter Max Kellan, needs her as much as she needs him.
Once, Max simply wanted to put his past to rest; now he demands nothing short of justice. As he and secretive, sexy Allie track a lethal criminal, their chemistry is an undeniable adrenaline rush. Their attraction will be put to the test when they confront their most dangerous threat yet: the truth.
A very good blend of romance and suspense, roller-coaster emotions, and strong but vulnerable characters. This is the third book in the series, and though I haven't read the first two, I never felt lost. That being said, I intend to read the other two as soon as possible.
Allie and her two friends, Simone and Eden, are haunted by the death of their friend Chloe twenty years earlier when they were all nine years old. When one of Allie's patients, nine-year-old Hope disappears, the circumstances are eerily similar. Added to the events of the previous books, it appears that the murderer is back and determined to torment them.
Max is Hope's uncle. He is a retired firefighter who moved in with his brother and niece to help care for her while her parents go through a divorce. He will stop at nothing to help find Hope, even team up with a dreaded "shrink." He is haunted by the events that led up to his departure from firefighting and feels the loss of the career he loved deeply.
I was sucked into the story from the very beginning. Though Allie is worried about Hope when she first arrives at the scene, the parallels to her past create an unimaginable fear. I was incredibly impressed with Allie's ability to remain calm while she talked to Hope's friends, and again when telling Max what happened. I loved her patience and understanding with him as he vents his anger and fear and then keeps him from doing something stupid. I ached for Max when his confrontation with Hope's mother was over, and the realization of Hope's danger hit him.
I enjoyed the development of the relationship between Max and Allie. It was fast and intense. Max was very distrustful of Allie at the beginning, thanks in part to his issues with mental health professionals. He also sensed that she was keeping information from him, which he found unacceptable. I thoroughly enjoyed the scene where he took matters into his own hands. The confrontation between Max and Allie was the beginning of a truce between them and also exposed their underlying attraction. I loved the humor of some of their conversations, especially when Max used it to help alleviate some of the tension they were under. Their competition over Max's nickname was an ongoing thing and served as a great way for them to get to know each other. Neither is perfect though and at one point their differing focuses drive a wedge between them and harsh words are exchanged. I liked that both are mature enough to see that neither was fully right and they could move past it. I loved the ending and the unexpected visitor beneath the tree house.
The suspense of the story was excellent. From the moment of Hope's disappearance to the very end, the suspense was intense. There were clues that were also links to the past, which increased the feeling that the kidnapping was also linked to Allie's past. I loved seeing Allie and her friends, as well as their significant others and law enforcement, all working together to bring Hope home safely. There was a surprising twist, caught by Max, that turned out to be important. I was glued to the pages as the hours passed toward the deadline imposed by the kidnapper. Just when I thought all were safe, an unexpected appearance put Allie in danger. I loved Allie's confidence in both herself and Max as the final confrontation brought everything to a successful conclusion.