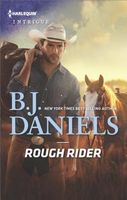 Series:
Whitehorse Montana: The McGraw Kidnapping
(Book 3)
He was sure he could handle one petite PI with an attitude -- but he'll need her help to solve the secret of his missing sister and outwit a ruthless killer
His family never fully recovered from the kidnapping of his siblings decades ago. Now Boone McGraw finally has a lead on his missing sister's location, but it means working with feisty private investigator C.J. Knight.
Desperate to solve her partner's murder, C.J. doesn't believe her case could possibly be connected to the sexy horse breeder's investigation…until they find themselves running for their lives.
Good conclusion to the series. Boone has been given a mission by his father. Go to Butte and find PI Hank Knight and find out what he knows about who kidnapped Boone's twin siblings twenty-five years ago. But when Boone arrives, he discovers that Hank is dead, killed in a hit-and-run accident. Or was it? Hank's partner, CJ Knight, is convinced that Hank was murdered.
CJ is determined to find out who killed Hank and why. She doesn't have the time or inclination to deal with a cowboy who has his own agenda. She's not convinced that the two cases are related until attempts are made to stop their search for answers.
I liked both CJ and Boone. CJ is smart, determined, and loyal. She is devastated by the loss of the man who was like a father to her. She is also very independent. I enjoyed seeing her and Boone butt heads at the beginning. Boone is just as determined and loyal as she is. His family means everything to him and he will do whatever it takes to find his missing sister.
The suspense of the story was very good as was the development of the relationship between CJ and Boone. I had fun watching Boone stick to her like glue as she tried to get to the bottom of Hank's death. Boone was certain that it was linked to the kidnapping. As each lead was uncovered and pursued it became obvious that Hank had been keeping quite a few secrets from CJ. I ached for her as she tried to reconcile the new information with the man that she had known and loved. As Boone and CJ got closer to finding Boone's missing sister, the man behind the kidnapping became more desperate to cover his tracks. I wasn't too surprised by the revelation of who he was, which came fairly early in the book. The final confrontation was intense and ultimately unsuccessful thanks to unexpected interference. I loved finally hearing the whole story as the family was reunited.
The romance between Boone and CJ was mainly in the background. There were sparks between them from the moment they met, but both tried to resist. CJ is too focused on finding Hank's killer to want to deal with the distraction that Boone poses. Boone is surprised by his attraction to CJ because they are so different. He can't see anything coming of it, as he is tied to the ranch and she loves living in the city. But the longer they spend together, the more the feelings between them build. I liked seeing what love did to change them both. The epilogue was terrific as it showed the whole family and their changes a year later. I would like to see a couple more McGraw books to show the twins getting their own love interests.