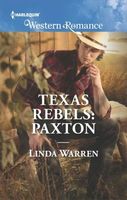 Series:
Texas Rebels
(Book 6)
THE COWBOY'S REDEMPTION
After years of girls, beer and a wild life on the rodeo circuit, bull rider Paxton Rebel is done being "The Heartthrob." His brothers have already settled down and are starting families. Paxton doesn't really believe he's meant for love…until he rescues the slight, lovely woman with sea-green eyes on a cold, windy beach.
Remi Roberts can't trust a charming lady-killer cowboy like Paxton -- especially since he's a Rebel, a family she's been taught to distrust. She needs to concentrate on recovering from her accident, which is the only thing standing in the way of her adopting the baby girl she adores. Besides, fairy tales don't exist and bad boys definitely don't change. Only, this cowboy is determined to prove her wrong…
Very good book. It opens with Paxton doing a bit of soul-searching. He has been on the rodeo circuit for a long time, enjoying the parties and the buckle bunnies. But after seeing most of his brothers settling down, he has started to realize that he's missing something in his life. He's not sure he's cut out for love until he runs into Remi Roberts.
Remi is recovering from serious injuries received in an accident. She has to get healthy fast because she wants to adopt her best friend's orphaned baby girl. She doesn't need the distraction of a bad boy Rebel.
I really enjoyed the development of Remi and Paxton's relationship. Paxton was bowled over by Remi from the beginning and couldn't get her off his mind - even after he discovered she was a McCray. There is something about her combination of determination and vulnerability that really gets to him. He is a bit wary of getting involved, especially after he learns of her adoption plans, because he doesn't think he has what it takes to be a husband and father. I loved seeing the way that Paxton found ways to help Remi with her recovery without trampling on her independence, as was demonstrated by the scene with the stick. His trip to a therapy session with her was awesome and showed just how serious he was about helping her. I also loved how he was smitten by Annie, which changed his viewpoint on fatherhood. Remi is especially wary of Paxton because of two things: his reputation with the ladies and his being a Rebel to her McCray. She does her best to push him away and is surprised when he sticks around. I liked how she began to accept his support and help the more time that they spent together. I liked how their feelings for each other grew steadily and the feeling of family that they experienced. When they ran into trouble over the adoption, I ached for both of them. Paxton was hurt by the way that Remi pushed him away when all he wanted was to be there for her. I also loved his determination to give her the time she needed and not give up on her. I wanted to shake Remi a little bit. She loves Paxton but believes he'll be happier without her in the long run. It takes her a while to realize the truth of their relationship, and it takes a couple of geese to do it. I loved her big moment at the end - it was perfect for her and Paxton. There was also an unexpected but wonderful twist to finish off the book.
There were also some new and interesting things revealed about the McCray family. I loved Remi's grandmother, Miss Bertie. She was delightfully eccentric, though a little scary at times. She was a real trip with that shotgun of hers. I ached for Remi and her desire to reconnect with her brother. It was interesting to see the development of that relationship. I liked the support that Paxton received from his family once they realized that he was serious about Remi. The interactions among the brothers are always fun to see, especially when it comes to their love lives and this was no exception. I am really looking forward to seeing what happens with the final brother, Elias.