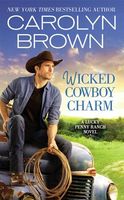 Series:
Lucky Penny Ranch
(Book 4)
ONE BLIZZARD, ONE BUNKHOUSE, AND A WHOLE LOTTA TROUBLE . . .
Josie Dawson is new in town, but it doesn't take a local to know that Deke Sullivan is trouble--in a smokin' hot package. He's sweet, sexy, and has charmed just about every woman in Dry Creek, Texas. Well, Josie won't be next. She'll keep her distance, even if he is great with babies and makes a mean cup of homemade hot chocolate.
Deke Sullivan really is a one-woman type of guy. He just had to do a lot of looking to find that one woman. Now he thinks he's found her and he won't let a strong, sassy gal like Josie slip away. Just when he's wondering how to convince her he only has eyes for her, they get stranded in a tiny cabin during a major blizzard. If Deke can melt her heart before they dig out of the snow, he'll be the luckiest cowboy in Texas . . .
I have been looking forward to Deke's story since he first appeared in
Wild Cowboy Ways
. He is a smooth-talking charmer of a man with a well-earned reputation as a ladies' man. He's known for his weekend antics, but no woman has been able to tempt him into more. He finds himself rather envious of the happiness his friends have found and wonders if there is someone out there for him, but is wary of picking the wrong one.
Josie Dawson is Jud's younger sister and partner in their fledgling oil business (
Merry Cowboy Christmas
). She is tall, blond, and independent. She has come to Dry Creek to set up oil drilling on the Lucky Penny and look for a ranch of her own for the rodeo stock she wants to acquire. She recently ended a relationship and had no plans to get involved in another one and figures she'll be too busy working anyway.
Fate has plans for Deke and Josie. One look at each other over a couple of bags of goat feed has the sparks flying, but there are obstacles. Josie is kin to his best friends, and there are rules about that type of thing. Getting involved with her could create a whole host of problems. For Josie, she has been warned about Deke and his reputation. She's been burned once by a man who couldn't stick with one woman; she wasn't about to go down that road again.
I loved the development of Josie and Deke's relationship. From the moment they met there is a connection. Because Deke has always been like a member of the Logan sisters' family, that relationship has continued and included their Dawson husbands. There are some good scenes early on where Josie gives as good as she gets when Deke's teasing gets going. She also can't deny the attraction she feels, though she does her best to ignore it. Deke and Josie discover that they're both headed to Montana to look at bulls for their ranches, though Josie is relieved to know that they are headed to different parts of the state. Mother Nature throws a kink in Josie's plans when a winter storm cancels her sale, so she asks around for another one she can go to instead. Sure enough, she finds herself at the same ranch as Deke, where they both get snowed in.
I loved this week with Deke, Josie, Deke's dog Rascal, and ranch owner Emmett. Emmett is a real character of a man with a pretty wicked sense of humor. Deke and Josie end up sharing a very small bunkhouse, giving them the opportunity to really get to know each other. I loved seeing a real friendship grow over the sharing of ranch chores, meals, and long hours of not much to do but talk. There is a really sweet scene where Deke's cowboy gentleman comes out as he saves Josie from a vicious spider without even a hint of laughing at her. There is also a proposition from their host that will give Deke and Josie an unexpected boost in their individual ranch plans and bring them even closer together. Simmering under all that friendship and business talk is an attraction that just keeps getting stronger. By the time they head back to Texas, together this time, neither can deny the heat. Their trip home is filled with further adventures, from trying to outrun more storms to delivering a baby.
By this time Deke knows that he has finally met the one that could make his dreams come true. The problem is trying to convince Josie of that fact. Things look pretty good until a bit of Deke's past makes her wonder if she's made another mistake. Deke is left having to work for the attention of the woman he wants. I have to say that he came through with flying colors thanks to the dates he came up with. My favorite was the first one, with the hints that led up to it and the thought he put into it. The second showed just how much he had changed, and the third was just plain smoking. I loved the reactions when he was seen sharing a hymnal at church, and walking out of the service together. Deke's big moment right before Valentine's Day was sweet and romantic.
The couples from the previous books make appearances, but my favorite secondary characters were Emmett and Martha. He is sweet, a little bit lonely, and a lot of fun. It was so wonderful to see how quickly he became a friend to Deke and Josie. I loved his stories about his late wife and his current lady friend, Martha. His proposal to Deke and Josie about the bulls and his future was incredible. The fun really picked up when Martha arrived. Her sense of humor was even more wicked than Emmett's. She and Josie had some hilarious conversations, especially over some apple pie moonshine. I loved Martha's reaction to Emmett's plans and what she did about it. I loved the decisions they made after visiting Dry Creek and would love to see more of them. Another fun character was Deke's dog, Rascal. He was described so well that I could picture him easily. I really loved the descriptions of his reactions to the snow in Montana, and the way he kissed up to Emmett. "His" gift to Emmett when Deke and Josie and he were ready to leave was adorable.