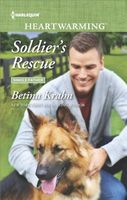 Series:
Single Father
(Book 33)
He has to find good in the world again…
Warmhearted Kate Everly is a veterinarian with a special love for dogs. But she's about to find out if her inner strength and unique "puppy whisperer" skills extend to healing wounded humans, too.
Florida state trooper Nick Stanton, a struggling single dad, is former military, and his army exploits led him to avoid dogs with a passion. Then a fateful rescue on a lonely back road brings the veteran and the veterinarian together over a gravely injured dog. Before long, Kate has her hands and heart full with a man coming to terms with his traumatic past…
Fantastic book. Kate is a veterinarian with a special affinity for dogs. We first see her with some puppies that have been dropped off at the shelter by an unknown person, setting the stage for later events. Her warmth and compassion for the animals she cares for is obvious. Her skills are needed when a state trooper arrives with a dog that had been hit by a car.
Nick came across the injured golden retriever while out on patrol. Standing guard over the golden was a German shepherd who was very protective. The injured dog resurrects some hard memories for Nick, but he does what he needs to do. I loved his gentleness with the golden and the way he handled the German shepherd. It was fun to see the way that he talked to the dog.
Nick and Kate's first encounter was awesome. I loved the teamwork as they worked together to treat the golden. There were also some definite sparks flying between the two of them. Kate is wary, having recently ended one relationship and feeling too busy with work to want another. Nick is busy raising his son and dealing with his memories from his time in Iraq. Thanks to a mutual desire to put an end to a puppy mill and a dog-fighting ring, and the enthusiasm of Nick's son Ben when it comes to dogs, Nick and Kate find themselves spending a lot of time together.
I loved the development of their relationship. It is a slow process of getting to know each and learning what makes them who they are. Nick especially has some serious issues to overcome. I loved Kate's sensitivity and compassion as Nick opens up about some truly heartbreaking things that happened to him. It was awesome to see how sharing the pain helped lighten the burden of those memories. I also loved the way that Nick was there to support Kate during the heartbreaking hours of the puppy mill rescue operation. There were some conflicts when Nick's protectiveness toward Ben ran up against Kate's more relaxed style. It was fantastic to see that they were able to talk things over without resorting to dramatics. I liked how they embraced their deepening feelings for each other as a crisis tested them both. Nick's plans for the future were a perfect complement to Kate's work. The epilogue was great and I loved catching up with both two- and four-footed characters.
The concurrent story of the puppy mill and dog-fighting ring was intense and heartbreaking. I loved the bravery of Miguel and Alejandro as they took steps to help as many pups as they could. The rescue scene was scary and heartwrenching as Nick faced down the old woman who owned the dogs. The descriptions of the conditions of the dogs made me want to cry. The situation became even more intense later, when young Miguel went missing. My heart was pounding as Nick and the others searched for him. The confrontation with the dog fighters was fierce with an unexpected hero saving the day.
The secondary characters were all wonderful. I loved Nick's son Ben. He is bright and enthusiastic, and an endearing mix of kid and adult. I really liked the closeness of the relationship between Ben and Nick. Kate's grandmother was quite a trip with her farm full of rescued animals and unconventional views on raising kids. My favorite of all was the German shepherd, Soldier. I loved the way he protected Goldie and continued to watch over her. What was especially moving was the way he connected with Nick. I loved the way that Soldier helped Nick break free of the chains his memories of Iraq had on him. At the same time, Nick's attention to Soldier gave the dog a purpose to live again. I loved seeing Soldier come through for Nick at the end. There was also a brief mention at the end involving Kate's brother, Jace, and her vet partner, Jess. I will keep my eyes open to see if there will be a story for them.