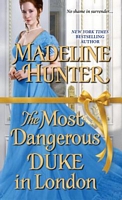 Series:
Decadent Dukes Society
(Book 1)
NOTORIOUS NOBLEMAN SEEKS REVENGE
Name and title: Adam Penrose, Duke of Stratton.
Affiliation: London's elite Society of Decadent Dukes.
Family history: Scandalous.
Personality traits: Dark and brooding, with a thirst for revenge.
Ideal romantic partner: A woman of means, with beauty and brains, willing to live with reckless abandon.
Desire: Clara Cheswick, gorgeous daughter of his family's sworn enemy.
FAINT OF HEART NEED NOT APPLY
Clara may be the woman Adam wants, but there's one problem: she's far more interested in publishing her women's journal than getting married -- especially to a man said to be dead-set on vengeance. Though, with her nose for a story, Clara wonders if his desire for justice is sincere -- along with his incredibly unnerving intention to be her husband. If her weak-kneed response to his kiss is any indication, falling for Adam clearly comes with a cost. But who knew courting danger could be such exhilarating fun?
Good book about a man bent on revenge and a woman determined to keep her independence. Adam has spent the last five years in France, where he took his mother to escape the ugly rumors of treason after his father's suicide. While there, he gained quite a reputation for engaging in several duels over his father's honor. Now he is back, determined to find the truth, clear his father's name, and exact revenge on those responsible. He's pretty sure that the Earl of Marwood, neighbor and long-time family enemy was the one who started the rumors and kept them going.
Adam is more than a little surprised when the Dowager Countess invites him to call on her and the new Earl. He's astounded when she proposes ending the long-standing feud in the time-honored tradition of marriage. She offers Adam, the hand of her youngest granddaughter, Emilia. Besides the fact that he feels she is way too young for him, he suspects the Dowager has ulterior motives. However, his first sight of eldest granddaughter Clara piques his interest.
Clara was the only child of the Earl's first marriage, and she was his favorite. They spent much time together, with him treating Clara more as a son than a daughter. On his death, he left her property and income enough for her to be independent, which suits her just fine. Clara uses her wealth to secretly publish a women's magazine and is quite adamant that she has no plans to marry.
I loved the first meeting between Clara and Adam. He is attracted and intrigued, and she wants nothing to do with him. He initially plans to court her in an attempt to discover what she knows about her father's involvement against his father, but it doesn't take long for him to want Clara for herself. Adam is quite determined to have her, and Clara is equally determined to retain her independence. I loved seeing Adam find ways to spend time with Clara that she can't avoid. He is quite devious at times, and it begins to pay off as Clara discovers that there is more to him than his reputation. I really liked the way that he appreciates her intelligence and wit. Clara is unaccustomed to such a thing, and it isn't long before they have developed a pretty solid friendship. Adam is still determined to marry her and turns up the heat on the attraction that simmers between them. Clara is still determined to retain her independence but considers entering into an affair with him. What they have together is more intense than either expects, cementing Adam's resolve and causing Clara to reconsider her opinion. I loved that they have honest conversations between their bouts of lovemaking, with Adam forthright about his motivations and Clara about her fears regarding marriage. The question comes down to whether the truth about Adam's father will tear them apart or bring them together.
I enjoyed the mystery behind his father's death. I ached for Adam who had been the one to find him, and who resented those who made his mother's life so miserable. I completely understood his desire to find the truth, no matter what it took. It was interesting to see the reactions of various people to Adam's presence back in England, with the scene at the race being especially intense. There was one person I suspected knew more than they were telling. An unexpected twist exposed the truth, and I loved how it all worked out.
The secondary characters were an intricate part of the story. Topping the list were Adam's friends Langford and Brentworth. I loved the strength of the friendship among the three men. Even after five years apart, they were able to pick right up as if they'd never been separated. I loved their support of Adam in whatever he needed. A garden party put on by a bachelor duke? Of course. Advice on women? Gladly. I'm looking forward to seeing those two get their stories. Clara's family was also vividly drawn. Her brother was obviously young and without the experience to deal with his older sister. Emilia was sweet and loved her sister. The Dowager was flat out scary at times, and I was truly impressed by Clara's ability to stand up to her. I liked Clara's friend and partner, Althea, and loved the way that she helped Clara with her rendezvous with Adam. I'd liked to see her get a happy ending of her own. I also loved the blunt Lady Farnworth. She was especially awesome when she stood up to the Dowager.