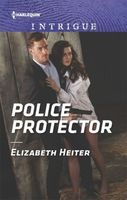 Series:
Lawmen: Bullets and Brawn
(Book 2)
She's become his whole world…and she's under fire
Ever since forensics analyst Shaye Mallory survived a police-station shootout, Detective Cole Walker has felt personally responsible for her well-being. Then another shooter takes aim at Shaye. Cole decides the only thing he can do is stay right by her side until he finds the man who wants her dead.
Cole knows that he must set aside his attraction to Shaye if he's going to do his job. But as the days -- and nights -- go on, it becomes harder and harder to resist his feelings. And, as danger moves ever closer to them both, Shaye realizes that her safety might cost her the life of the man she loves.
This book started with a bang (literally) and kept me hooked all the way through. A year earlier Shaye had gotten caught in the crossfire of a shootout at the police station. Afraid of it happening again, she quit her job in the digital forensics lab. Now she is back, determined to overcome the fears that kept her away from the job she loved. After a week on the job, she has just started to relax when she is shot at again. Cole is first on the scene to save her. Cole has a bad feeling about this shooting. It appears random, but his gut tells him otherwise. He will do everything in his power to keep Shaye safe until the shooter is caught.
I really enjoyed the mix of romance and suspense. Cole had fallen hard for Shaye as soon as he met her, and the attraction was mutual. It was sweet to read their backstory, as they built a solid friendship over "chance" encounters before and after work. Cole missed her over the months she was gone and was thrilled when she came back to her old job. His protectiveness takes over when Shaye is shot at.
I liked Cole. He is protective of those he cares about, such as Shaye and his brothers and partner. He is determined and doesn't give up even when the investigation hits dead ends. He also frustrated me at times because he has a bit of an inferiority complex. He knows he is good at his job, but his lack of a college education makes him feel that he isn't good enough for Shaye.
I also liked Shaye. She allowed her fears to hold her back for a little while, but then took steps to get her life back. I loved that she went back to her forensics job determined to make a difference. She starts out the book still a bit tentative and understandably freaks when she's shot at again. But she doesn't allow the fear to linger. I loved seeing her determination to be part of the investigation and her refusal to be held back.
I liked the development of their relationship. They were already friends, and that friendship had developed into more. It was obvious to those around them, and I enjoyed seeing his brothers and friends give Cole a hard time about not pursuing it. Shaye is well aware of her feelings but is a bit hesitant about pushing herself toward Cole. With Cole providing constant protection for Shaye, their increased time together provides ample opportunity for their attraction to grow. Cole fears that his feelings could be a distraction that could put Shaye in more danger, but resisting just isn't possible. Shaye has some fears of her own. She isn't sure if she can handle being with someone whose life is always in danger. She also feels that Cole doesn't deserve someone who is such a scaredy-cat as she thinks she is. It takes nearly losing each other to make them realize that being apart is much worse than learning to deal with their worries about being together. The epilogue was fantastic and showed the romantic side of Cole's nature.
The suspense was really good. I could feel Shaye's fear when the gunman was shooting at her and her relief when Cole arrived. The frustration that Cole and the others experienced over the lack of clues was obvious, as there were several possible suspects. I enjoyed following the leads with them and trying to decide who was the most likely to be the shooter. The final confrontation was intense, and I was on the edge of my seat wondering how they were going to get out of it. I was really impressed with Shaye's presence of mind as she tried to delay the killer.
I liked the secondary characters of Cole's partner, Luke, and his brothers, Andre and Marcos. I loved the way that they all provided any backup that Cole needed, from watching over Shaye to confronting gang leaders and witnesses. I also loved the closeness of the three "brothers of the heart." There was a little more about the fire that played a part in their youth, but not enough to answer all the questions. I expect that the next book will do so.