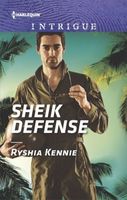 Series:
Desert Justice
(Book 4)
He's the one she can't remember, she's the one he can't forget…
Tossed overboard, Ava Adams had been left for dead, drifting at sea. But security specialist Faisal Al-Nassar was determined to find her. He owed her father a great debt and had never forgotten the connection he and Ava had once shared. Yet after rescuing Ava he discovered she barely remembered him.
Amnesia had left Ava uncertain of who had tried to kill her. She did know, however, that Faisal was a man she could trust. The sheik's embrace was familiar and enticing…and possibly even more dangerous. How could she succumb to feelings for her protector when what she didn't know could get them both killed?
Good book with some intense suspense and a touch of romance. Ava has accompanied her father on a yachting vacation before heading off to start her new job. She doesn't expect to be awakened one night by the sounds of a fight on the deck. She discovered her father fighting off an attack by a business associate. To protect her, her father forces her into a life raft and off the boat just before the bad guy, Ben, renews his attack on Dan. Terrified for her father, Ava drifts at sea.
Faisal and his family are longtime friends of Dan and Ava. Faisal was scheduled to have a meeting with Dan, and when the yacht goes off the radar, Faisal is notified. His family runs an international security firm, and Faisal immediately sets out to find both Dan and Ava. I loved the intensity of Faisal's determination and could feel his need to find them both.
When Ava is rescued, her condition is grave, and in her delirium the things she says give Faisal cause to worry for her safety. As she begins to recover, her memories of what happened are sketchy, but she knows that there is something very wrong. As her memories begin to return, instead of doing as her father said and confiding fully in Faisal, Ava sets out on her own to discover the truth. This leaves Faisal playing catchup, trying to find Ava before Ben finds her first.
I definitely wanted to shake Ava at times. She was very smart and determined, but also rather naïve about her ability to handle this trouble by herself. By the time she realized her mistake, it was almost too late. I really liked Faisal throughout the book. He remains calm and in control most of the time, though the occasional moment of desperation does pop up.
The suspense starts out intense with the fight on the yacht and the search for Ava and Dan. The intensity decreases somewhat as Ava recovers and then makes her way to Texas. It then ratchets back up as Ava, Faisal and Ben all converge on the tiny town. Brief segments told from Ben's point of view show just how much danger Ava is in. The final confrontation had me on the edge of my seat until it was resolved.
There wasn't a whole lot to their relationship until near the end. Both Faisal and Ava remember their past with both fondness and regret. It was sweet to see how Faisal looks back and realizes that he was too young to appreciate what he could have had with Ava. Meanwhile, she remembers her youthful crush on him and is wary of believing that what she feels now is more. I loved seeing them take some time at the end to get to know each other again. Faisal's big moment at the end was sweet and romantic.