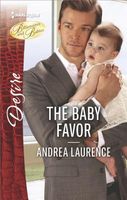 Series:
Billionaires and Babies
(Book 83)
For the baby's sake…
Scarlet and Mason Spencer's marriage was once hotter than a summer heat wave. But their failed attempts to start a family chilled their passion. Now on the verge of divorce, Mason's single-parent brother is dying, leaving his baby girl in Mason's care…and pulling Scarlet into a ruse that she's still the billionaire's happy, loving wife…
Pretending to be a family so Mason's brother's final days will be peaceful starts feeling like the real thing -- as does the combustible chemistry she finds in her sexy soon-to-be-ex husband's bed. Will Scarlet's baby favor lead to a reunion…and the family they've always wanted?
Good second chance story for a couple torn apart by infertility issues and pride. Scarlet and Mason had had a terrific marriage until the stresses of starting a family became too much for them. Just weeks away from divorce, Mason has come to Scarlet for help. His sister-in-law has died in a crash, and his brother is dying, leaving Mason to care for their baby girl. Jay doesn't know about the impending divorce, so Mason wants Scarlet to pretend everything is fine for Jay's final days.
This was an emotional roller coaster of a book. Scarlet has finally begun to adjust to Mason's absence and the end of their marriage. She had been blindsided by Mason's request for a divorce. She hasn't stopped loving him. Scarlet still hurts over the loss of the baby they'd adopted, whose birth mother decided she wanted him back. When Mason asks for her help, she is reluctant because she doesn't want to go through the pain of losing him again after the charade is over. She is also determined not to let herself get attached to baby Luna. I completely understood Scarlet's viewpoint. She had been through a lot and was simply trying to protect herself. I also knew that there was no way she was going to be able to resist Luna. I ached for her as she confronted her memories in the nursery and smiled as she overcame them.
Mason frustrated me for a good part of the book. Thanks to the unreasonable expectations of his father, Mason grew up expecting perfection of himself. When things aren't going the way he expects them to; he tends to cut his losses and move on. While this may work in his business, in his personal life it has been a disaster. Mason blames himself for their lack of a family, decided that Scarlet would be better off without him, and asked for a divorce, all without actually talking to her to see what she wanted.
From the moment Mason and Luna moved in it was obvious that his and Scarlet's feelings for each other were as strong as ever, but so were their fears. Scarlet tried desperately to keep both Mason and Luna at a distance, but it was a losing battle. It didn't take long before both Scarlet and Mason started feeling hopeful about the future, but a part of each of them was also wary. Scarlet feared that if things got rough again, he would revert to his cut and run ways. I liked the way that she confronted Mason early on and explained her problem with him. Though he promised he wouldn't do it again, Scarlet had trouble trusting him. Mason still has bouts of self-doubt and can't believe that Scarlet will really be happy with him. Things are looking very promising for them until Jay's death. Mason has a hard time dealing with the loss of his brother and the guilty feelings brought on by what he sees as his happiness at his brother's expense and withdraws into himself. With Scarlet's fears of history repeating itself it doesn't take much to push her over the edge to a confrontation with Mason. I ached for the misery that they inflicted on themselves. I loved that it was hearing Jay's voice in a dream that finally pushed Mason into realizing the truth: "Climb down from the cross, Mason. We don't need another martyr in this family." I loved his big moment at the end and the way that he showed Scarlet the depth of his feelings. The epilogue had an unexpected and heartwarming twist to it.