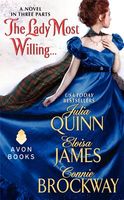 Series:
Lady Most...
(Book 2)
At the behest of three of the most talented historical romance authors writing today, you are cordially invited to a ball. No, a party. No . . . a kidnapping.
Taran Ferguson, laird of his clan, is determined that his ancient (if not so honorable) birthright be secured before he dies. When both his nephews refuse to wed, the old reprobate takes matters into his own hands: he raids a ball and makes off with four likely brides . . .
Miss Marilla Chisholm -- the bonniest lass in Scotland, and an heiress to boot.
Miss Fiona Chisholm -- her older sister, another fine choice (but for that tiny stain on her reputation).
Lady Cecily Tarleton -- true, she's an English beauty, but very, very rich.
Miss Catriona Burns -- without name or fortune, clearly someone made a mistake.
Oh, yes. And one very irate duke.
Because somewhere there must be one lady most willing to love a Scottish lord.
Good book with a Seven Brides for Seven Brothers type of theme. Taran Ferguson, older, stubborn, and rather unique laird of his clan is determined that his two nephews marry soon to secure the family legacy. They aren't cooperative, so one night he raids a neighboring estate, kidnapping four young women from a ball. And, unintentionally includes one highly irritated duke. The two nephews are horrified by their uncle's actions and try to make the best of things. Thanks to the weather, they are cut off, with no way to return the ladies to their homes.
The four women deal with the issue as befits their personalities. The first part of the book concentrates mainly on Catriona. Catriona is a local woman without much in the way of name or fortune, and according to Taran was taken by mistake. She is practical, familiar with Taran and his antics, and takes things as they come. John, Duke of Bretton, who was also an unintended captive, goes from irritated to amused pretty quickly, helped along by his growing interest in Catriona. I enjoyed their interactions, which were fun with a definite undercurrent of attraction. Catriona doesn't expect anything to come of it, as he is a duke and she is a nobody. John is smitten immediately and acts accordingly. The catalyst to his big moment was pretty funny, but the moment itself was sweet and romantic.
The story then moves on to Lord Oakley, one of Taran's nephews. Taran immediately starts in on Byron, haranguing him for not making any obvious attempts at winning one of the heiresses. Having been burned recently by discovering his fiancée in the arms of another man, Byron is in no hurry to try again. He is also accused of being too stuffy to appeal to a woman, and compared unfavorably to the other men. He isn't too happy to find himself the target of the determined Marilla, and at one point hides in the library to escape her. This brings him into contact with Marilla's sister, Fiona, a much quieter woman. Fiona has her own history to deal with. Her fiancé fell to his death while trying to climb to her window. She has been blamed for it and her reputation ruined. She has given up fighting to get anyone to believe the truth and resigned herself to spinsterhood. Enter Byron, disturbing her refuge in the library. I loved their encounter, as Fiona has an enjoyable time poking holes in his stuffiness. Byron begins to understand why he is the way he is and becomes determined to change, spurred on by his attraction to Fiona. She has realized that she is attracted to him also, but that her reputation makes anything between them impossible. A cruel comment from Marilla puts a hitch in Byron's plans and hurts Fiona. I liked that Byron recovered quickly from his shock and his attitude and actions proved to be worthy of Fiona. Things got a little heated in the cold stable when he finally shared his feelings.
The story is rounded out by Robin, Taran's other nephew. He is known throughout London as the Prince of Rakes. He is half-French, with an inherited title of Comte and little else. He hides behind his reputation so that he doesn't have to deal with the rejection of those who look down on him. He is struck dumb at the sight of Cecily, feeling that bolt of lightning that tells him that this is the woman for him. Except, she isn't. Cecily is the daughter of a wealthy earl, with a great fortune coming to her. She is young, beautiful, and seems to be the shy and retiring type that all the mothers want for their sons. The difficulty is that Cecily doesn't want one of those staid and boring men. She wants someone she can love and luckily has parents who have given her the freedom to choose. She also has much more confidence in herself than anyone realizes. She doesn't panic during the kidnapping, looking on it as something of an adventure. An adventure that becomes so much more when one look at Robin convinces her that he is the man she is meant to marry. But it isn't going to be easy because Robin is determined to do the honorable thing and stay away from her, while Cecily is equally determined to win her prize. It was great fun to see Robin fall more and more under her spell. I ached for him because he was so certain he was unworthy of her. Their scenes together were wonderful as they got to know each other, with the snowball scene being one of my favorites. I loved how Cecily really understood Robin and finally took matters into her own hands.
I really liked all the characters except for Marilla. I found her incredibly annoying. She treated her sister horribly and completely ignored Fiona's attempts to guide her into proper behavior. She was selfish and spoiled. She set her sights on a man and behaved very inappropriately in an attempt to win him. When she would lose out to another woman, she would simply move on to the next one in line. She was totally oblivious to the way the men did their best to avoid her. I kept waiting for her to realize that none of them wanted anything to do with her.
The epilogue was great, rounding out the Seven Brides for Seven Brothers theme with the arrival of the outraged fathers once the pass was clear. The confrontation in the chapel was terrific, especially when the pairings were revealed with one slightly surprising twist.