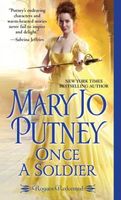 Series:
Rogues Redeemed
(Book 1)
As heir to a title and great wealth, Will Masterson should have stayed home and tended his responsibilities. Instead he went to war. Now, after perilous years fighting the French, he intends his current mission to be his last. But all his plans are forgotten when he arrives in the small mountain stronghold of San Gabriel and meets her.
Knowing herself to be too tall, strong, and unconventional to appeal to a man, Athena Markham has always gloried in her independence. But for the first time in her life, she finds a man who might be her match.
Two of a kind, too brave for their own good, Athena and Will vow to do whatever it takes to vanquish San Gabriel's enemies. For neither will back down from death, and only together can they find happiness and a love deeper than any they'd dared imagine. . .
Terrific start to the new series. The book begins with Will a prisoner along with five other men, awaiting execution by the French. Thanks to a bit of luck brought on by a thrown wine bottle, Will discovers a way for all six men to escape. Drawn together by their experience, they make a pact to stay in touch.
Five years later the war is finally over and Will looks forward to going home to England. Before he leaves, his commanding officer asks him to escort a group of soldiers from San Gabriel back home and to check on the conditions in the small country. Upon his arrival, he discovers a country heavily damaged but determined to recover. Their king and prince are missing, having been taken prisoner by the French, and the country is led by their young princess, Sofia, aided by her friend and companion, Athena.
I loved the meeting between Will and Athena, as he is held at gunpoint until she is sure he is not another marauding soldier. Will is immediately smitten by the tall and fiercely protective Athena. Athena is attracted to him, but thanks to her past feels she is too far beneath him for anything but friendship. I really enjoyed the development of their relationship. First comes a deep friendship, aided by their work to help the people of San Gabriel. I loved their ability to talk honestly with each other. The scene where they shared the trials of their pasts was fantastic. Learning of Athena's past does nothing to dim Will's determination to win her heart. The attraction between them heats up with the sharing of some pretty intense kisses. I loved Will's patience as he works to overcome Athena's fears. There were a few times I wanted to shake her for letting her mother's reputation keep her from accepting Will's love for her. The danger of their situation brings some clarity to Athena's thinking and their attraction moves ahead. Their HEA is artfully engineered by Princess Sofia when Will and Athena nearly lose each other, though Athena still has her doubts. There is a delightful twist at the end that finally ends her fears.
There is a secondary romance between Princess Sofia and Will's friend Justin Ballard. Justin has come to help Will with the rebuilding of San Gabriel. He and Sofia experience the lightning bolt of love at first sight, but know that nothing can come of it. Sofia is a princess and will be Queen if her father and brother are not found. Justin is a Scottish merchant with great wealth but no pedigree. I enjoyed seeing them get to know each other, deepening their feelings for each other yet accepting the reality of their circumstances. I couldn't wait to see how things were going to work out for them and I was not disappointed. It was especially fun to see Sofia take the lead in that scene.
The setting was a very important part of the whole story. I loved reading a Regency romance that did not take place in the ballrooms of London. Instead, we are treated to the Peninsula during and after the war. There is a realistic look at the ravages of the war upon the land and the people as we see how the people of San Gabriel coped with the devastation caused by the French. The descriptions of the land and the people were vivid, and I could easily picture them as I read. I could feel the hope blossoming after Will's arrival and the promise of the supplies they needed. The various repairs and projects were interesting and worked well to further the connections among the main characters. There was also the growing tension as Will felt the sense of impending danger. The scene by the river was fast-paced and exciting as Will, Athena, Sofia, and Justin faced down the French scouts. I loved seeing Sofia and Athena take the lead in a solution quite different than Will would have come up with. As Will discovers that his instincts were right, I was enthralled reading of their plans and preparations. The final confrontation was intense and felt realistic in the way it was portrayed, including the injuries.