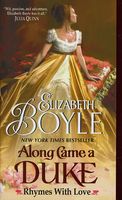 Series:
Rhymes With Love
(Book 1)
"A young lady with a fortune is subject to all sorts of untoward attentions by the worst sort of vagrants."
--Aunt Allegra
A lesson Tabitha Timmons, a penniless spinster, has never needed to heed. That is, until she is left a vast fortune payable only upon her marriage to the very respectable Mr. Barkworth--a match that offers little chance of discovering exactly what her aunt means by "untoward attentions."
But the same can't be said when the Duke of Preston happens along Tabitha's path. He spies a rebellious streak in her that matches his own and he makes it his mission to save her from such a passionless match, interfering in her life at every turn. All too soon, Preston -- whose very name spells ruin -- has Tabitha caught between the good fortune that guarantees her security, and his kiss, which promises an entirely different kind of happily-ever-after.
Fun book, with a slight Cinderella theme. Tabitha is a vicar's daughter who, upon the death of her father, was taken in by her aunt and uncle. They didn't want her, but she was part of the deal that enabled her uncle to take over the vicar's position. Tabitha has spent the last several years as her relatives' servant. That all changes when she is left a huge fortune - as long as she marries the man her late uncle picked for her, a paragon of virtue named Mr. Barkworth. Tabitha is informed of this on the same day she told an insufferable and rakish Mr. Preston that she had no wish ever to get married. Her relatives quickly have her on the road to London and the promise of a speedy marriage.
Mr. Preston, who is actually the Duke of Preston, met Tabitha when he and his friend Roxley had an accident while participating in a bet. Preston has quite the reputation for reckless behavior, and this is just one more example. His latest antics have caused him to be shunned by society, and his aunt and uncle to try to convince him to mend his ways.
From the moment that Preston and Tabitha meet, there are sparks between them. Tabitha is a spirited young woman who has had a hard time of it but accepts it and moves on. I loved the first meeting between her and Preston, where she has no trouble pushing back against his arrogance. For his part, Preston is amused by her and finds himself unable to forget her. A chance encounter on the road has them sharing a private dinner. I loved this scene as Preston teases Tabitha and she gives as good as she gets. We also get some insight into the past that affects Preston's behavior as an adult. Tabitha knows that she isn't being wise, but there is something about Preston that she can't resist.
Their next encounter is two weeks later. Preston hasn't been able to forget Tabitha. He is stunned when they meet again, and he learns of her upcoming betrothal. He is dismayed by what he sees as her relatives' attempts to turn her into another "Bath miss" and is determined to save her from such a fate. I loved his appearance at the same function that night. His outrageous behavior is great fun to watch as he pokes at the so stuffy Barksworth. I loved seeing Preston's protectiveness as he tries to save Tabitha from a miserable marriage without realizing why he feels so strongly about it. In spite of his rakish reputation, there is a very sweet side to him also. I loved the scene with the bluebells. Tabitha can't help but compare the two men, and each encounter makes it more obvious which she would rather be with. The tension picks up when Preston learns the details of the betrothal and becomes determined to save Tabitha. His methods are effective in one way, but she isn't in the clear quite yet. There is still excitement to come as Preston finally realizes why he's so protective of Tabitha. The final scenes are great fun as both Preston and Tabitha do what they must to get the future they want.
I liked Tabitha from the start. She is feisty and independent even while stuck with her miserable aunt and uncle. I enjoyed her quick wit as she traded barbs with Preston over dinner and again in London. I would have liked to see her stand up to Barksworth and her relatives a bit sooner, but she did come through in the end.
I wasn't as sure about Preston at first. He came across as spoiled and uncaring, especially when it came to the bet that started the book. I ached for him as his past was revealed and felt that maybe there was some hope for him after all. Tabitha's effect on him was huge as she inspired him to change.
I also enjoyed the supporting characters. Preston's friend Roxley is a terrific friend and is there to support him when he's most needed. I had to laugh at his fear of his Aunt Essex and the lengths he took to avoid her. I'm looking forward to seeing his story. Preston's aunt was quite a force to be reckoned with, and I really enjoyed seeing her try to save him from himself. I'm also looking forward to seeing how Preston's uncle deals with the results of the prank that Preston and Roxley have played on him. I also liked Tabitha's friends, Harry and Daphne. Harry is forthright, and some of the things she says and does are pretty amusing. There is a history between her and Roxley, and I look forward to finding out more about it. I wasn't sure about Daphne at first because of her support of Barksworth, and her dislike of Preston. As that seems to be the result of some kind of family feud, I have a feeling that she has some surprises in store for her.