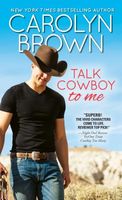 Series:
Lucky Cowboys
(Book 1)
One cowboy. One cowgirl. One ranch.
Who will win the Double Deuce by the Fourth of July?
Adele O'Donnell knew that Double Deuce Ranch had to be hers the second she walked onto the property. Freshly divorced, she sees it as the perfect spot for her and the kids to start a new life. Remington Luckadeau was always a carefree playboy...until his suddenly orphaned nephews became his responsibility. The Double Deuce Ranch would be the perfect place to raise two boys. But some fiery woman is fighting him for it, and Remington is not sharing-no matter how the sparks fly when he and Adele are together.
Very good book. It is a ranching Brady Bunch kind of story. Adele is a single mother of two girls, Jett and Bella. They were dumped by her ex-husband for his mistress. He has cut all contact with them, including selling the ranch they live on out from under them. She wants a place of their own where they can put down roots and move on with their lives. Remy is now the single father to his two nephews. He was the ultimate player until six months ago when his brother died, and he became responsible for the boys. He wants his own ranch, where he can give them the kind of upbringing he had. The owner of the ranch can't decide between the two, so he has them move to the ranch to care for it while he is gone for a month. When he comes back, he will decide who gets it.
This was a fun story from the very first page. Both Adele and Remy are determined to win the contest, as are their kids. The adults have the added complication of an intense attraction between them. Adele is wary of getting involved with Remy, whose reputation as a player is well known. Besides, she isn't ready for a new relationship since she's still dealing with the fallout from her marriage. Remy is equally wary. He's never seen himself as the settling down type. Now that he has the boys, his attention is all for them. Plus, there aren't too many women around who are willing to take on someone else's kids.
The competition and its progress were great. It starts out very antagonistic, with both sides determined to beat the other. The kids are especially competitive. Jett and Bella have lived on a ranch most of their lives and are well accustomed to everything that must be done, and they have no trouble rubbing that in. Nick and Leo are city boys but determined to learn what they have to in order to win. Though Remy and Adele start out intending to divide the work, it isn't long before they realize it makes more sense to cooperate. There are some terrific scenes of various types of ranch work and how it gets handled. I loved seeing the kids go from adversaries to friends to sibling-like behavior.
I loved the development of the relationship between Adele and Remy. Remy realizes right from the start that he's in trouble. He's attracted to Adele and knows that could be quite a distraction. Plus, he's trying to put his player reputation behind him and be a good example for the boys. Adele also knows that she has a battle on her hands. Remy is just the type of man she's attracted to, but she's been burned once and doesn't want to go there again. It doesn't take them long to move from adversaries to friends. I loved their growing respect for each other and their abilities. It's obvious that they are falling for each other, but each continues to fight it. Remy doesn't think he's good enough for her, and Adele is certain that he'd rather be with anyone but a tall, red-headed rancher. It was also really sweet to see how each of them fell for the other's kids and felt guilty that winning would wreck their dreams. Of course, the solution is obvious, but it takes them a while to see it. It's difficult for each of them to overcome their fears, but eventually, they can see and admit their feelings for each other. I loved the ending and the surprise they had for their families on the Fourth of July.
One of the things I liked most about the book is that the relationship developed without any over-the-top drama. They have a few instances of disagreements, but they can talk honestly and deal with whatever the issue was. I also liked how they used some of their own actions as teaching moments for the kids.
I loved the kids as secondary characters. Each of them has their own personality and place in the story. Of the four, Jett was my favorite. She was feisty and fun. She had quite the mouth on her, and it was fun to see her rile up the boys. She was also kind hearted, and I loved her quick connection with Dahlia. That was a brief piece of the storyline, but a very emotional one.

I also loved seeing various members of the Luckadeau and O'Donnell families from previous books. It's always a good time when the families are together. It was especially fun to see the unsolicited advice and comments that Remy and Adele were on the receiving end of.