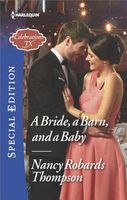 Series:
Celebration TX
(Book 2)
And the prince wore spurs
A bourbon-tinged evening turns into a night of spur-jangling passion. And wrapped in the arms of hunky cowboy Zane Phillips, Lucy Campbell feels like her dreams have come true all at once! But she knows Zane needs a chance to let their move from friends to lovers sink in. That is, until reality knocks…and Lucy discovers she's pregnant.
This wasn't how Zane imagined daddyhood would happen. And with pretty Lucy…his best friend's little sister! He wants to do right by her and the baby, but Lucy wants the fairy tale, not a marriage of obligation. And while this simple cowboy isn't sure he can measure up as her Prince Charming, the real magic is that he's had her heart all along…
Emotional friends to lovers story. Lucy and Zane have been friends for most of their lives, and Lucy has been in love with him for almost that long. But Zane doesn't see her that way - after all, she's his best friend's little sister. When Zane's mother dies, Lucy shows up one evening with Chinese food and old movies, hoping to give him a little respite from his grief. With a little too much bourbon blurring the lines, comfort turns to a passion filled night together. Lucy thinks that Zane has finally seen how they belong together until he gives her the "just friends" talk. Then Lucy discovers she's pregnant.
I loved Lucy. She has finally gotten her life just where she wants it. In the previous book,
The Cowboy's Runaway Bride
, we see her pursuing her dream of turning an old barn into a wedding venue. Her business has taken off, and life is just about perfect. She loves her life in Celebration, where she realizes that she has belonged all along. I loved her upbeat attitude and way of looking for the best in things. She tends to have a fairly romantic view of life, which goes well with her chosen profession. She's loyal to those she cares about and wants what is best for them.
I loved Zane too, though he also frustrated me at times. He and his brother were raised by their mom after their father abandoned them to marry another woman. Seeing what his mother went through soured him on the idea of love, which he believes is just short-lived passion wrapped up in flowery words. I ached for him and his feeling of being adrift after his mother's death. He's ready to leave Celebration behind and start a new life. Lucy's news stuns him, but he's ready to step up and do the right thing. She stuns him again when she turns him down and tells him just why she has no desire for a marriage of obligation.
One of the things I loved most about this book is that Lucy and Zane are completely open and honest about their feelings. She knows that marrying without love would be a huge mistake for her. The last thing she wants is for Zane to feel that she trapped him, especially if he were to fall in love with someone else later on. Zane doesn't believe in love, but he does believe that the genuine liking and respect that he and Lucy feel for each other would be enough to build a life together.
The progress of the relationship was a very emotional one. I ached for Lucy as she gave up her dream of happy ever after with Zane for the reality of sharing the raising of their child. I loved that she was willing to visit the job site in Florida with him, even though she was pretty sure that she would not be going with him. I hurt for Zane, who was trying to reconcile his feelings with his beliefs about love. It was obvious that he cares for Lucy; the way he listens to her about the nursery and gets the paint for it is his way of showing it, even though he can't say the words. Watching Lucy send Zane off to his new job without her had me in tears as I wondered how they were ever going to find their way together. Their happy ever after came thanks to a surprising twist, and I loved Zane's big moment at the end. The man who hadn't believed in love turned out to be an even bigger romantic than Lucy.
I enjoyed seeing more of Ethan and Chelsea. Their wedding was everything I expected it to be with Lucy and Juliette in charge of it. I loved seeing the realism of the relationship between Ethan and Lucy, where he still has to fight treating her like the flighty girl she used to be. I loved seeing her stand up to him when he did so, and that he was man enough to admit his mistake. It was also fun to see Ethan and Zane deal with the effect Lucy's pregnancy has on their friendship. There are also hints of a relationship for Lucy's other brother, Jude, and her friend Juliette.