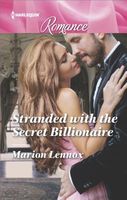 Rescued by a brooding stranger…
Jilted heiress Penny Hindmarsh-Firth sets her broken heart on escaping high-society city life. Instead, she's trapped by floods in the Outback and a handsome stranger on horseback comes to her rescue!
After a betrayal shattered his life, Matt Fraser withdrew from the world -- but he can't deny Penny a refuge. The secret billionaire is reluctantly intrigued as the society princess starts proving there's more to her than meets the eye…
Fantastic book. Penny is on the way to a new job in the Outback, escaping the heartbreak and notoriety of her broken engagement when she gets stranded by rising floodwaters. She's rescued by Matt, a sheep farmer out checking his land. He sees a blond woman with a pink car and a poodle, stuck in the stream and immediately writes her off as a ditz, but can't just leave her there. He reluctantly invites her to stay with him until the flood waters recede.
I loved their first meeting. Penny is trying to remember that she is a strong woman who doesn't need a man in her life ("I am woman. Hear me roar."), but reluctantly admits that she needs help getting out of her present predicament. Matt's mind is on the fact that he has twenty shearers ready to start work and the cook he's hired is on the wrong side of the flood. He's brusque but amused at Penny's bravado and figures he can handle a couple of weeks of company. After all, he'll be busy with the shearers and won't see much of her. When she offers to help with the cooking, he doesn't expect much from a society princess, but he'll take what he can get.
That first day was a real eye opener for Penny. Her initial offering was pitifully inadequate, and Matt's reaction was a blow to her feelings. But it was also a boot to her pride, and a challenge she couldn't resist. I loved seeing her go from slightly cowed to Iron Chef in a heartbeat. Her no nonsense instructions to Matt and the speed with which she was able to improvise was amazing. By the end of the day, Matt realized just how much he had underestimated Penny.
I loved seeing the development of their relationship. Over the next ten days, they got to know each other pretty well and formed a solid friendship. Though their days were busy, in the evenings they talked. I loved how Penny was able to share what her life had been like, the good and the bad, and begin to overcome the humiliation she had felt. Matt was more closed off at the beginning. His difficult childhood and then the disintegration of his marriage had destroyed his trust in people. I liked how Penny's willingness to share her story helped him to open up about his. By the end of the shearing time, each of them has realized that there is something more growing between them. I liked how Matt asks Penny to stay longer, using the excuse of needing help to get the house ready for a possible visit from his daughter. The attraction that has been building between them comes to the surface, and they agree to see where it takes them. But when Matt learns that his daughter will be visiting much sooner than expected, both his and Penny's fears return. Penny leaves to go back to Sydney, feeling rejected all over again.
Penny's return isn't all bad. Her time with Matt has given her the confidence to stand up to her father. I loved seeing her take this time to pursue her own dreams. She misses Matt and still hurts over the way they parted. She is in for a surprise when Matt arrives at her home in time for the dreaded family dinner. This scene is so emotional, as Penny fights her desire to lean on him and accept his help, yet has trouble trusting that he doesn't have some motive of his own. His patience and kindness, along with a bit of amusing deception were a joy to witness. He continued his gentle assault on Penny's fears the next day, as he also requests her help with his daughter Lily. But the real icing on the cake was when he and Lily arrived to take Penny and her mother to the wedding. I loved how perfect they all were together and the effect it had on Penny. Matt wasn't finished, though, and I loved the plans he had made with Lily's help and collusion. His big moment there was sweet and romantic exactly what Penny needed to push her over the edge of her fears. There was a final perfect moment on the last few pages that cemented how right they were for each other.
I loved the author's descriptions of life on the sheep farm. I could almost hear the sheep bleating and smell the atmosphere around the sheds. The rigors of shearing and the effort it takes day after day made a vivid picture. I also loved the amazing beauty and peace of the waterfall and pool, which reminded me of places I had visited in Hawaii. It has intensified my desire to visit Australia someday.