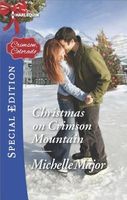 Series:
Crimson Colorado
(Book 7)
LOVE ON THE MOUNTAIN
Peace and quiet -- that's all Connor Pierce wanted from the rented cabin on Crimson Mountain. Yet the caretaker turned out to be lovely April Sanders -- a total distraction. As were the two little girls she was caring for. Connor's plan to forget his painful past soon detoured into giving the ladies a Christmas to remember.
Being named guardian of two motherless girls has upended April's world. Add to the mix a mysterious, brooding writer claiming he wanted to be left alone while going out of his way to bring a little joy to the girls, and she has quite the quandary. April had counted herself out of a happy ending. But maybe Santa still had a few surprises up his merry old sleeve…
Fantastic story of loss, love, and healing. Connor, April, Shay, and Ranie have all been beaten down by life. Connor, who suffers from writer's block ever since the tragic deaths of his wife and son, has come to Crimson Mountain for the peace and quiet he feels he needs to finish his book. April is the caretaker of the cabin where he is staying and is tasked with providing his meals and whatever else he needs. She has also recently lost a good friend to cancer and is caring for that friend's two little girls. Twelve-year-old Ranie and five-year-old Shay are dealing with the loss of their mother and the uncertainty of their future.
The pain is evident from the beginning. April is on her way to her cabin with the girls. A breast cancer survivor herself, she is reeling from the loss of her friend and her fear of caring for the two girls. How can she commit to raising them when she can't be sure she won't get sick again? Both girls are suffering from the loss of their mother, though little Shay seems to be handling it well. Ranie, on the other hand, is snarky and sullen and determined to be as contrary as possible. When they arrive on the mountain, April discovers that Connor has gotten there first. To say that he isn't happy when he sees the girls is putting it mildly. Connor comes across as a veritable Scrooge, wanting the girls gone, and only reluctantly agreeing to their staying if they stay quiet and don't disturb him.
I hurt for Connor. He had lost his wife and young son in a car accident several years earlier. He blames himself for their deaths and has shut himself off from the world because of it. Just hearing Shay's laughter brings all that pain to the surface and he lashes out at April because of it. I loved that April stood up to him and forced him to see that he was unreasonable.
I ached for April, too. She comes across as having her life all put together. She's organized, friendly, warm and caring. She has made a place for herself in Crimson, and yet she holds a part of herself away from everyone. Her past has shown her that it hurts to care too much. The one person who should have stood by her, her husband, instead walked away in the middle of her treatment, unable to deal with her disease and its consequences. She's afraid that if she gets sick again, the next person to walk away will destroy her.
I loved the development of their relationship. April's innate kindness and compassion have her wanting to help Connor see that withdrawing from the world is not the way to honor his family. I loved seeing her and the girls slowly draw him out of his shell. It isn't easy on him, and his occasional panic attacks are believable and understandable, as the emotions he has buried for so long begin to reappear. There is also an unexpected attraction that flares between them. Connor is a bit freaked out by the depth of his need for April, as he still considers himself too broken, but he accepts April's declaration of "it's right for right now." In spite of his feeling broken, there's a tremendous amount of sensitivity in him. I loved how he showed April that she is beautiful even with the outward scars of her disease. Over the next few days and their stolen moments together, the feelings for each other deepen, but neither is ready to believe in a future.
Part of their growing relationship is the way they work together to make Christmas special for Shay and Ranie. Connor's initial antagonism is breached by the adorable Shay, who refuses to let his grumpiness keep her down. He is also drawn to the sulky Ranie, whose grief is so like his own. The two of them bond over an ice skating lesson. Connor fights it at first, but both girls wiggle under his defenses. I love his gentleness with Shay and his way of teasing Ranie. April is awed by his ability to help them and saddened by his refusal to believe that he can love again. April fights her own fears regarding the girls. She knows their mother wanted her to raise them, but she thinks that she is unfit to do so. She has come to love them and isn't looking forward to giving them to their aunt. As Connor and April accuse each other of being unwilling to risk their hearts again, a crisis with Shay causes a ceasefire. I loved that April finally saw the truth of her feelings for both Connor and the girls and that she embraced what needed to be done. I ached for both her and Connor as his fears sent him running. I loved his return and seeing him finally open his heart completely. The little bit with the pinecone figure was especially sweet. The epilogue was a wonderful opportunity to see how much life had changed for all four of them.

*copy received in exchange for honest review