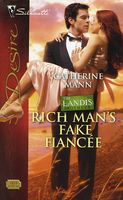 Series:
Landis Brothers
(Book 1)
Convenient proposal
Everyone is talking about the surprise engagement between Matthew Landis and Ashley Carson. Seems the oldest son of one of South Carolina's most powerful families is engaged to someone...ordinary. Could this announcement--conveniently leaked to the press--have to do with Matthew's quick exit from Ms. Carson's home very early in the morning? One wonders what chance such a match made in media heaven could have....
I really enjoyed this book. Matthew is an up-and-coming politician from a well-to-do family. He has been spending a lot of time with local restaurant owner Ashley while working on various fundraisers for his campaign. One night the growing attraction between them bursts into flame and they spend a passionate night together. But the next morning he can't get away fast enough, and only a forgotten briefcase brings him back in time to save Ashley from being trapped in a house fire. Unfortunately, they were also caught by a photographer, leading to a publicity firestorm. Anxious to protect Ashley's reputation as well as his own political prospects, Matthew proposes a temporary fake engagement. Though reluctant at first, Ashley changes her mind when she learns something about his political opponent.
I really liked both Matthew and Ashley and enjoyed the progression of their relationship. Matthew is a good man, whose tragic loss of his fiancée made him wary of risking his heart again. Though he came across as selfish at first, his concern for Ashley was undeniable. He won my heart with his reaction to her parents' treatment of her. I liked Ashley even better. She grew up in foster care, and with two of her foster sisters, has made a successful life for herself. She suffered from scoliosis throughout her school years, and the teasing and cruel remarks from other kids helped her build up an incredible inner strength. As she and Matthew spend time together on his campaign, their attraction continues to grow. Though Matthew stubbornly resists thinking of what they have as anything deeper, he can't deny how right it feels to have her by his side. He even considers asking her to make the engagement real. I enjoyed seeing Ashley become part of Matthew's life. It was especially satisfying to see the way that she stands up to his campaign manager just by doing what she feels is right. Ashley quickly realizes that her heart is fully involved and the thought of entering a marriage where she isn't loved back is too painful. When another potential scandal erupts Matthew, having finally realized that he loves her, is ready to do what he thinks is necessary to protect Ashley, while she wants what is best for him. I loved her big moment at the press conference as she blows everyone away with her poise, grace, and humor.
I also thoroughly enjoyed the secondary characters and the closeness of those relationships. Ashley's sisters (whose stories are told in the
Beachcomber
series) are there for her after the fire, and also during her engagement to Matthew. It was great to see that, though they had their suspicions, they fully supported her in whatever she did. The Landis family is equally wonderful. Though they are all wealthy, each of them has a calling to do something for the benefit of others rather than just living the lives of the idle rich. I loved Matthew's mother, Ginger, whose story was told in Holiday Heroes. She is loving, intelligent and down-to-earth. I adored the way that she accepted Ashley right away, just as she was, and helped her see her own potential. I also liked Matthew's brothers and the way that they had his back through all the trouble. There was also a good amount of realism in their relationships, as shown by their competitiveness and less than perfect lives. I have previously read Kyle's story and still want to read those for Sebastian and Josh.