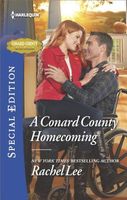 Series:
Conard County: The Next Generation
(Book 34)
MAN'S -- AND WOMAN'S? -- BEST FRIEND
Conard County's returning war hero is a world away from the popular high school athlete Ashley Granger remembers. Zane McLaren doesn't want any fanfare -- he doesn't want any human contact at all. But it seems Zane's affectionate golden retriever has other ideas about the decorated soldier and the teacher next door!
Wounded in battle, Zane wants only to be left alone. He doesn't need anyone's pity, especially his outgoing, dog-loving neighbor's. Because it isn't just Ashley's legendary apple pie that's tempting Zane to quit hiding from life. Suddenly the Purple Heart recipient is having a hard time keeping his own heart under wraps. Has he found the woman who can help him heal the past and build a loving future together?
Fantastic book. I loved the realism of the battles that Zane was fighting, and the depth of emotion as both he and Ashley find their way to each other with the help of a furry matchmaker. Zane had grown up in Conard City but left to join the Navy after graduating from high school. Now he has returned, looking for a place where he can be alone and not inflict his problems on anyone else. The first night he is there he receives a visit for next door neighbor Ashley, welcoming him home with a freshly baked pie. He's not particularly welcoming, making no secret of his preference for solitude.
I ached for Zane, who feels broken because of both his physical disability and the PTSD that sends him into a past he'd rather forget. He feels like his only option is to avoid being around people. His service dog, Nell, is the only one that he trusts himself to be around. Thanks to his self-imposed isolation, he's out of the habit of talking to people, and his initial conversations with Ashley are rather abrupt. He knows he's coming across as a real grump, but doesn't quite know how to fix it.
Ashley is a fourth-grade teacher who has pretty much written off men. She's an independent woman, and previous relationships haven't worked out because she isn't the type to give up her own career and goals just to keep a man happy. She's content with her job and her friends.
I loved the development of their relationship. Ashley is a friendly and caring woman which is what sends her to Zane's to start with. She also has no trouble standing up for herself and lets Zane know when he crosses a line with her. I liked seeing him own up to his rudeness and apologize when it's warranted. I loved the fact that Ashley doesn't treat him with kid gloves. Zane tries to keep her at a distance, but Nell has decided that he needs company and takes it upon herself to bring the two of them together. Though Zane keeps insisting he wants to be alone, he finds himself looking forward to Ashley's visits. I especially enjoyed her attempts to get Zane out of his hermit mindset. She's not always subtle about it, and she backs off when he resists. What surprises him most is that what she says tends to stick with him and he can't just ignore her. Beneath it all is a simmering attraction that both try to resist. Ashley resists because he's made it clear he doesn't want it, and Zane because he believes he's too broken to let anyone take a risk on him. I really liked how they first built a friendship. Zane finds it very easy to talk to her, and she is a fantastic listener. I loved seeing how her influence helps him start getting out and about. It was fun to see his surprise at how easily he gives in to her suggestions. I love her matter of fact way of dealing with various crises and how she tried to make him see that it was okay to ask for help now and then. She also doesn't smother him with help that he doesn't need. The ending was sweet and deeply emotional as Zane realizes that he doesn't have to be perfect to offer his heart to Ashley.
Nell was a huge part of Zane's story. She is his lifeline when he has an episode, as she can sense when they happen and can pull him out of the dark places that his mind can take him. I loved seeing what she could do, which only added to my respect for the people who train service dogs. Nell also has a mind of her own sometimes, and it was sweet the way that she played matchmaker.
I liked the way that the people of the town honored Zane's desire to be left alone. They let him know that they were glad he was there without overwhelming him with attention. I especially loved the scene in Maude's diner. I also liked how the town pulls together to help Mikey and how Zane's innate kindness comes out when Ashley suggests he get involved with helping Cadell (
Cornered in Conard County
) train a dog for the little boy. Though he worries about what may happen, he puts Mikey ahead of his own fears.