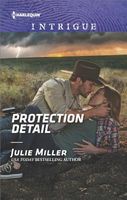 Series:
Precinct: Bachelors in Blue
(Book 4)
A seasoned cop becomes the target of a killer. And so does the woman he's falling for.
Detective Lieutenant Thomas Watson had been off air force active duty so long, he thought he was safe. Until a gunman crashes his daughter's wedding, reawakening the warrior inside him. He hires nurse Jane Boyle to care for his injured father so he can focus on bringing the gunman to justice. While Jane is the ideal caretaker, her dark past has landed her in witness protection. And the more she's embraced by this family of cops, the more danger she's in. For a shadow from Thomas's own past might be willing to lend Jane's stalker a helping hand…
Fantastic conclusion to this miniseries. As with the previous books, this one opens at Olivia's wedding, showing the events through Thomas's eyes. I like his obvious love for and pride in his family. He has been a widower for a long time, with his family being the most important thing in his life.
The book then jumps to the current time, and a scene involving family patriarch Seamus, Thomas, and the nurse Jane Boyle. Thomas is dealing with the frustration of the lack of progress in finding who is behind the shooting at the wedding. He also has to deal with his cantankerous father, who isn't always the most cooperative during his rehabilitation. In this scene, it is Jane who brings order out of the chaos created by Seamus's frustrated tantrum, while Thomas is distracted and intrigued by her. He senses that there is more to her than appears.
Jane keeps to herself out of necessity. Three years earlier she witnessed a murder by a serial killer and is the only one who can identify him. She is in WITSEC to protect her until he is caught and tried. She's attracted to Thomas but resists because nothing can come of it.
I loved the two of them together. Thomas's protectiveness extends to Jane as part of the family when they become the targets for another shooting. Their boss/employee relationship begins to change as Thomas allows himself to show Jane his interest in her. I loved his efforts to comfort her in the wake of the attacks, and how Jane slowly allows herself to feel again. Thomas isn't the only one with a protective streak, and Jane worries that her past has brought more danger to the Watsons. Both Thomas and Jane are older, and I loved seeing the differences in their relationship because of it. I especially loved Jane's perspective on Thomas: "After all, it was hard to resist a handsome man with enough mileage on him to make him interesting and sure of himself..." The respect and admiration they have for each other enhance the deeper feelings that have grown between them. I really enjoyed seeing them give in to their desire for each other.
The suspense of the story was outstanding. It isn't obvious to them whether the attacks are aimed at Thomas or Jane. The attacks continue to escalate. There are glimpses of the man behind the attacks on the Watsons and it becomes clear that he is much closer to them than they suspect. I thought I had a handle on who it was, but additional possibilities came to light and made me question first impressions. There is also the tension of knowing that Jane's attacker is on the loose and getting closer. I loved Thomas's take charge attitude and his determination to keep Jane safe. There are some great scenes as he deals with the various other law enforcement types and their plans for Jane. The intensity builds as they plan a sting. The final confrontation was intense as Jane and Thomas experienced a double pronged attack. The resolution was great as the "Unhappy Man" was revealed and dealt with in a most satisfying way.
The epilogue was great as it brought the series full circle. It was lovely seeing Thomas and Jane happy and looking forward to their future. The scene before the wedding with his three sons was fun and so indicative of who they all are. I hope to get updates on them all in future Precinct books.
I was a bit puzzled by the cover. Thomas is a city cop, so I don't get why he's wearing a cowboy hat and making out in the middle of a field.