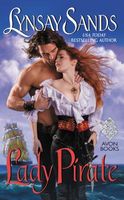 OUT OF THE FRYING PAN
Circumstances had changed; they had gotten worse. Valoree no longer had to masquerade as her murdered brother and scourge the oceans as Captain Red. She no longer had to command his pirate band in a quest to regain his birthright. She had been named heir to Ainsley Castle. But no executor would ever hand over the estate to an unmarried pirate wench and her infamous crew--no matter to whom she'd been born. And the will had distinctly stated that in order to inherit, Valoree must be married to a nobleman . . . and pregnant.
INTO THE FIRE
Upon learning that, the virgin captain had been ready to return to the seas, but her crew had put it to a vote--and for those rascally cusses she would do anything. Reluctantly, she agreed. If they could find a way--Henry and One-Eye and Skully--to put on her a sweet face that would fool the ton, she would handle the rest. Even with a drunken prostitute as an "aunt" and her merry cutthroat crew as "servants." But to herself she swore one thing: she could only marry a man who fired her blood, a man who was not afraid of a .. .LADY PIRATE
After the deaths of her parents and guardian Valoree was raised aboard her brother's pirate ship. In order to protect her, she was disguised as a boy the entire time, with only one crew member knowing her secret. Her brother's plan was to acquire enough money to restore the estate he's inherited, then retire from the sea. He had promised his crew that they would have a place with him. Just as Jeremy had reached his goal, he was captured and tortured by another pirate, and the money stolen. Valoree took over as captain, determined to avenge her brother and to replace the riches and follow her brother's plan, all the while keeping her secret from the crew. That plan hits a bump in the road, however, when she discovers that to inherit, she must be married to a nobleman and either have a child or be pregnant by the time she's twenty-five years old - only nine months away. She's ready to give it up and return to the sea, but her crew convinces her to give it a try.
Daniel is in a similar predicament. He has inherited the title and the lands, but not the money needed to maintain them. Instead, his grandmother's will states that he must be married and have a child before he can claim the money she has left him. He's not happy about having his hand forced, and his mother's efforts to help are making his life miserable.
Daniel and Valoree meet briefly at the lawyer's office on the day they each find out about the wills' requirements. Daniel is intrigued by Valoree, who is unlike any woman he's ever met and ponders the idea of them joining forces to gain their inheritances. Valoree is determined to find a husband that she can control, retaining her independence. To do so, she must enter society and check out the prospects. There are some pretty funny scenes of the "help" she gets from her loyal but clueless crew members. Her entry into society does not go smoothly, and in each of her attempts, Daniel is there to rescue her. He becomes more intrigued each time and feels an unexpected attraction to her. Valoree also feels the pull but feels that Daniel would not be the compliant husband that she seeks. Her attempt to find said husband results in an influx of worthless fortune hunters and her "interview" process is pretty funny. Daniel has determined that he wants Valoree for his own and inserts himself into her life whenever he can. He also takes advantage of their attraction to press his point. Valoree still resists, until her crew takes it upon themselves to force the issue. The abductions are carried out, but a secret involving Daniel ends up putting them at odds. There are some interesting maneuverings as roles are reversed, and Valoree presses for the marriage and Daniel resists. Valoree's solution is unique but effective, and they end up tying the knot.
But not everything goes smoothly. Valoree's fears are realized when it seems that Daniel has taken over everything in her life. She is left with nothing to do and her resentment builds. It takes Daniel's mother's arrival to open his eyes to what he has been doing. I loved Valoree's reactions to the various instructors and Daniel's cluelessness. Daniel has finally realized that he is in love with her, and his actions were an attempt to take care of her. Unfortunately, Valoree saw them as an attempt to control her. I loved seeing him confess his feelings. Though he wanted to hear that she felt the same, I loved seeing the patience that he had as he waited for her to be able to see it. It took Valoree a while to realize why she was resisting admitting her feelings and I enjoyed the self-examination that had her finally facing the truth.
There was a little bit of suspense/mystery running through the book. There were several "accidents" that happened, putting Valoree's life in danger. The truth behind the attacks came as a surprise as it was not at all what I expected. The final confrontation was good, and I thoroughly enjoyed the punishment that was rendered.
The only thing left was the revenge on the pirate responsible for Jeremy's death. That was wrapped up pretty neatly by the end. It was fun seeing how the relationship between Valoree and Daniel drove their way of dealing with the threat.
As much as I liked Daniel and Valoree, I think I liked the secondary characters even more. Valoree's pirate crew were hilarious and heartwarming. I loved how much they obviously loved and respected her and the lengths they were willing to go to for her. From the pink livery to their "votes" on what was best for her, she was always their top priority.