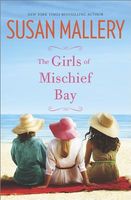 Series:
Mischief Bay
(Book 1)
Nicole Lord wants to be a good wife, but there's a difference between being supportive and supporting her husband, who quit his job to write a screenplay she's never seen. He won't even help take care of their son, leaving Nicole to run the house and work full-time.
Sacrificing a personal life for her career is how Shannon Rigg became VP at her firm, but she wonders now whether she made the right choice. An exciting new relationship with a great guy convinces her that it might not be too late -- until he drops a bombshell that has her questioning whether she really can have it all.
Although Pam Eiland adores her husband, she feels restless now that the kids are grown. Finding sexy new ways to surprise him brings the heat and humor back to their marriage, but when unexpected change turns her life upside down, she'll have to redefine herself. Again.
Through romance and heartbreak, laughter and tears, the girls of Mischief Bay will discover that life is richer with friends at your side.
Good story about love and friendship. Nicole, Shannon and Pam are all friends who met through Nicole's exercise business. Each one is at a different stage in life. Nicole is a thirty year old fitness instructor with a husband and a four year old son. Shannon is a single woman, forty years old, with a successful career. Pam is a fifty year old, stay at home mom, with a husband and three grown children. Each of them is about to experience some major changes in their lives and it's their friendship that helps them get through.
Nicole arrived home one day to find that her husband Eric had quit his job to devote himself to writing a screenplay. While he spends his time surfing, writing and going to meetings, she is left running her business, paying the bills, and taking care of their son and the house. I thought Eric was a selfish SOB, concentrating on what he wants and whining about her lack of support for his dreams when all she wanted was a little help from him. I understood her frustration. When the unbelievable happens, Eric changes even more, leaving her wondering what will happen to their marriage. I liked the realism of her life, from trying to figure out how to fit everything she needs to do into her day, to her reactions to her son's current obsession with a cartoon character. I ached for her when it seemed that all her efforts weren't enough for Eric.
Shannon has made her career the focus of her life, but now she's ready for something more. She has dated some, but each relationship crashes when the man can't handle the demands of her career. She meets a terrific new guy with whom she has a lot in common. Having a demanding career himself, he understands hers. I really liked Adam. He's a sensitive guy who owns up to the mistakes he made in his previous marriage and is determined not to make the same ones in his new relationship. Shannon is falling hard for him, and for his two kids, and starts dreaming of building a family with him. But not everything goes smoothly. First he drops a bombshell that puts a kink in her hopes for that family. Then, an issue arising from his daughter's birthday party puts additional strain on the relationship. Shannon worries that it's the end of her dreams. I admit that I really wanted to shake him and make him see that he was being manipulated by his kid, and I was definitely pleased when the truth came out and he realized what an ass he'd been.
Pam was the oldest of the group. She has a happy marriage and three great kids. But she's suddenly feeling her age and that things may have gotten a bit too comfortable and predictable in her marriage. She takes steps to liven things up. It was great fun to read about their weekend away and how it turned out to be something that neither expected. I loved seeing their happiness, which made what happened next even more of a shock. I ached for her as she tried to deal with the pain and sorrow. I was especially worried about her with some of the decisions she was making, and loved seeing her make some new friends. The last day of her cruise was especially emotional.
The entire story was full of both fun and deeply emotional moments. Each of the ladies was someone I could relate to in one way or another. All of them are going through struggles and discover that they are easier to deal with when you have good friends backing you up. And sometimes, helping your friends with their troubles can point out the way to get through your own.