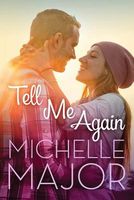 As a teenager, Samantha Carlton used a career in modeling to break free from her painful childhood walking away from her reckless twin sister, an alcoholic mother, and the boy she loved. Yet she never outran the guilt of abandoning her family. When the past shows up on her doorstep in the form of her late sister s daughter, Sam opens her home and her heart to the girl she never knew existed. But it's not so easy to face the man she left behind.
Sam had shattered Trevor Kincaid s heart, and he'd sought comfort in her sister s arms. But he'd pledged to shield his daughter, Grace, from the drama that followed the Carlton women. Now Grace has tracked down Sam, and Trevor is forced to deal with the one woman he wanted to forget.
History has a way of repeating itself, and the sparks between Sam and Trevor reignite an old flame. But as much as Sam wants a new future, is walking away again easier than risking her heart for a second chance at love?
Very good book, at times heartwrenchingly emotional and at others laugh out loud funny. It is a story of second chances, family and friendship, and learning how to trust again. Sam is a former model who used her chance at a modelling career to escape from a rough childhood. But along with the pain, she also left behind the boy she loved. Then one day her late sister's daughter tracks her down, a girl that Sam had no idea even existed. Sam desperately wants a chance to get to know Grace, but her father isn't so sure that's a good idea.
Trevor had loved Sam with all his boy's heart, but didn't go with her when she asked. Instead he turned to her sister for comfort, and ended up as a single dad when Bryce turned her back on them and resumed her wild ways. After her death he was determined to protect Grace from what the chaos around the Carlton women. But now that Grace has found Sam, he has to find a way to deal with it.
Their first encounter, when Trevor comes to get Grace from Sam's house, was really intense. Sam is rightfully hurt and angry at being kept in the dark about her niece's existence. She also discovers that the attraction she felt for Trevor is still there. As a father, Trevor is protective of his daughter, but also dealing with the feelings that seeing Sam again has raised. I ached for Sam as she realized how much of Grace's life she had already missed, and at the hurt she felt for the way she had been excluded. I loved seeing her stand up to Trevor and refuse to stay away from Grace.
Trevor finds he really has no choice about letting Grace get to know Sam, but he's determined to supervise it. He decides to do the renovation work at Sam's camp himself, while Grace spends time with Sam. This gives the attraction between he and Sam a chance to reignite, but Trevor also has to get past his preconceptions about what Sam's life has been like. I had some problems with Trevor's attitude, as he frequently threw Sam's past in her face, even though she has left that life behind. He would show some moment of sensitivity, then turn around and say something really hurtful.
I loved seeing the way that Sam had changed her life. After experiencing the highs and lows of a supermodel's life, she put it all behind her and started a camp for disadvantaged kids. She's putting her heart and soul into doing something good with the guilty feelings she has about her relationship with her sister. There's a heartbreaking scene dealing with one of the girls from her camp, and I cried right along with Sam. I loved the strength and compassion she showed during this section.
The relationship that grows between Sam and Trevor is one that does not run smoothly. Both of them have issues that must be overcome before they can have a future. Sam has trouble just believing that she deserves a chance to be happy. Trevor needs to learn to let go of his need to control everything that affects Grace, and also allow himself to have a life outside taking care of her. The memory of their former relationship is never far away and they find themselves falling back into that friendship pretty quickly. There are times that they are easy and comfortable with each other, as though nothing had ever come between them. Trevor can see the woman that Sam has become, likes her and is attracted to her. That Trevor is the one who sees Sam's distress and goes with her to a teen's funeral and is there to support her. There are other times that something sets off Trevor's fears and he strikes at Sam with hurtful words about her past. He usually knows he is being a jerk, but does it anyway. He's always sorry afterwards, but honestly, I want to smack him when it happens. The feelings between them deepen, and Sam is ready to tell him how she feels when a crisis involving Grace occurs. Trevor's reaction is protective of Grace, but vicious toward Sam and I hurt for her. Her devastation is exceeded only by her determination to protect Grace, and the lengths she goes to are extraordinary. I thought that Trevor deserved every bit of the guilt he felt, and that Sam may have let him off the hook a little too easily. I loved how Sam came out of it stronger and more confident in herself, ready to let go of the past and move forward.
The supporting characters of the story were wonderful. First and foremost was Grace. She has a good relationship with her father, but she's also hit the age where she needs a woman in her life. It was fun to see Trevor's confusion when trying to deal with some of her actions. I loved seeing her connect with Sam and how quickly the bond between them grew. There were several really fun scenes between her and Sam, such as the dress-up one. Trevor's reaction is a typical father's when he realizes that his daughter is growing up, and he manages to put his foot in his mouth anyway. I thought she dealt with the trouble at the end far better than Trevor did. I also enjoyed seeing her call out Trevor for his treatment of Sam.
Sam's friends Kendall, Jenny and Chloe were wonderful. I loved how they were always there to support her, and how protective they were also. I liked the scene where all three arrived to check Trevor out and warn him that he'd better treat her right. I think Jenny was my favorite, with her blunt statements and refusal to back down on her opinions. It was also fun when Kendall's and Chloe's men also put in their two cents worth. Sam's reaction to both was fantastic, and though she fussed, I think she also appreciated the motivation behind it. I can't wait to read their stories, now that I know about them.

*copy received in exchange for honest review