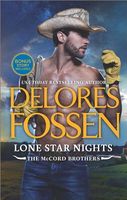 Series:
McCord Brothers
(Book 2)
No strings attached is pretty much Lucky McCord's calling card in Spring Hill, Texas, but when family is on the line, this cowboy's honor and heart are about to get lassoed, tied and branded
Every family needs its black sheep, and Austin "Lucky" McCord is happy to oblige. The bad-boy bull rider lives fast and loose, until his business partner leaves him an unexpected bequest. Suddenly Lucky is sharing custody of two children with Cassie Weatherall, one of the few homegrown women he hasn't bedded. And not from lack of trying…
Cassie fled her messy past to become a celebrity therapist in LA. So why does it feel so right to come back and share parenting duties -- and chrome-melting kisses -- with a man she's striven to avoid? Loving Lucky always seemed like a sure bet for heartache. But for this perfectly imperfect family, Cassie might just gamble with everything she's got.
Good book. Emotional, funny, and sexy. Lucky is a rodeo bull rider and lives the free and easy life. He is quite the ladies' man. The book opens with Lucky at the bedside of his friend and business partner Dixie Mae. Besides being his partner in a successful business, she has been like a mother to him since his own passed away. Her death hits him hard, as does the surprise she has waiting for him in her will. He has been given joint custody of two children, along with Dixie Mae's granddaughter, Cassie. Cassie left Spring Hill as soon as she could, escaping from a less than ideal childhood. She has become a therapist to the rich and famous in LA. But she drops it all to come home and fulfill her grandmother's dying request.
Lucky and Cassie are shocked to be paired together in the guardianship of the two girls. Lucky had a huge crush on Cassie when they were in school, but she wouldn't give him the time of day. He always thought she disapproved of his wild ways. Cassie avoided him in high school because she always sensed that he could easily derail her plans to get away, and she didn't want to take that chance.
I loved the pairing of Lucky and Cassie. Both of them have issues that keep them from believing that they deserve to be happy. Lucky carries an immense amount of guilt over the deaths of his parents, believing that he is responsible for what happened to them. Cassie is suffering from panic attacks, brought on by her feelings of guilt over the death of one of her clients. In letters to each of them, Dixie Mae has tasked them with showing the other that their guilt is misplaced.
Neither Lucky nor Cassie believes that they are the right people to care for two young girls, but both step up to the plate to do so. At first they are determined to find the next of kin, someone better qualified to take care of the girls, but quickly find themselves growing attached. Though neither thinks they have what it takes, it was really sweet to see how they bond with the girls. Four year old Mia wiggles into their hearts with her cuteness and belief in the magic she expects from them. Thirteen year old MacKenzie tugs at their hearts with the tough girl exterior that hides a vulnerable heart. I especially loved seeing Lucky have to deal with a teenage girl who was so much like him (though he refused to see it). It was really great to see his protective instincts kick in when MacKenzie started having boy problems. I ached for them as they prepared to give up the girls to their aunt.
I loved seeing the relationship develop between Cassie and Lucky. He is a love them and leave them guy, keeping all relationships very shallow. He doesn't quite know how to deal with it when he finds that what he experiences with Cassie is more than just lust. I loved seeing him deal with unexpected jealousy when her ex-boyfriend showed up. Cassie knew from the beginning that her heart was in jeopardy. At first she tried resisting his advances, but it was a losing battle. It was fun to see her decide to just go with it, accept that she'd get her heart broken, and enjoy whatever time she had with him. She didn't expect to actually fall in love with him. I loved her courage in declaring her feelings, and how she made him work to actually win her in the end.
There were fun places that lightened the serious moments. Cassie's grief at the loss of her grandmother, and having to deal with her scumbag father, were countered by the great cat caper. I also loved the way that Dixie Mae knew her son so well, and left him the "inheritance" that he so deserved. It was also pretty amusing to see Lucky have to deal with the consequences of his reputation with the various women that he encountered, at the same time that he was trying to deal with his feelings for Cassie. I also loved seeing him deal with his "fatherly" feelings when he came to MacKenzie's rescue.
Secondary characters were also well done. Cassie's father was definitely one that was easy to dislike, with his entitled attitude. Csssie's ex, Andrew, was another one to dislike. His condescending attitude toward Lucky made him seem quite the snob. I also hated his attitude toward Cassie, and was really glad when she finally developed enough backbone to stand up to him. But my favorites were Mia, MacKenzie and Dixie Mae. Dixie Mae was rough around the edges, blunt, but also loved deeply. I really enjoyed her legacies to everyone, and her beyond the grave meddling. Mia and MacKenzie were wonderful. I liked seeing the changes they went through, thanks to the love and attention they received from Cassie and Lucky. MacKenzie was especially appealing with her teenage attitude. I could see the trouble coming her way with her "relationship" with Brody.
I liked seeing the other members of the family, especially Logan. We learned a little more about how his parents' death affected him. I am looking forward to reading his story.