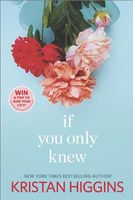 The drama, hilarity and tears of sisterhood are at the heart of the thoroughly captivating new novel by New York Times bestselling author Kristan Higgins -- a funny, frank and bittersweet look at marriage, forgiveness and moving on
Letting go of her ex-husband is harder than wedding-dress designer Jenny Tate expected…especially since his new wife wants to be Jenny's new best friend. Sensing this isn't exactly helping her achieve closure, Jenny trades the Manhattan skyline for her hometown up the Hudson, where she'll start her own business and bask in her sister Rachel's picture-perfect family life…and maybe even find a little romance of her own with Leo, her downstairs neighbor, a guy who's utterly irresistible and annoyingly distant at the same time.
Rachel's idyllic marriage, however, is imploding after she discovers her husband sexting with a colleague. She always thought she'd walk away in this situation, but her triplet daughters have her reconsidering her stance on adultery, much to Jenny's surprise. Rachel points to their parents' perfect marriage as a shining example of patience and forgiveness; but to protect her sister, Jenny may have to tarnish that memory -- and their relationship­ -- and reveal a family secret she's been keeping since childhood.
Both Rachel and Jenny will have to come to terms with the past and the present and find a way to get what they want most of all.
Good book. It's a combination of romance and women's fiction, dealing with family drama and the relationship between two sisters. It is told in first person from each sister's point of view, in alternating chapters. It took me a few chapters to get used to the abrupt changes, but all-in-all it really worked.
Jenny is the younger sister, a talented and increasingly popular wedding dress designer. She has been divorced from her husband for almost two years, but is still friends with him and his new wife. She's increasingly uncomfortable with that closeness (he calls her several times a week) and decides a little physical distance is a good idea. She moves back to her small hometown where she opens a custom bridal gown shop and rents an apartment in a charming brownstone. The "super" and downstairs neighbor is Leo, a handsome and charming piano teacher who arouses and frustrates her all at the same time. She's also excited to be living near her sister and her adorable triplet girls, and witnessing Rachel's perfect marriage.
Rachel has been married to the perfect man for ten years and loves being stay-at-home mom to their little girls. She's incredibly happy with her life, until she discovers that Adam has been sexting with a coworker. She's afraid that he's doing more than that, and isn't sure how she wants to handle it. She's always been sure that she would walk away from that situation, but now that's she's facing it, she wonders if that's the right thing to do.
I loved the relationship between Rachel and Jenny. They are typical sisters in that they don't always see eye-to-eye on everything, but they've always been there for each other in a crisis. I liked how Rachel was there when Jenny needed her, and tried to make Jenny see that her ongoing relationship with Owen and his wife was weird and not really in Jenny's best interests. Rachel also finds herself leaning on Jenny when her marriage to Adam is in trouble. But it isn't all sweetness when she feels that Jenny is judging her and pushing her to take actions she's not ready for. At the same time, I loved how Jenny is always ready to take care of the triplets whenever Rachel needs a break. Though she had an idealized view of Rachel's marriage, when push came to shove she was completely on Rachel's side, to the point where she was pretty obnoxious to Adam (not that he didn't deserve it). There were a couple times when their relationship became rather strained, but in the end their ties were strengthened.
There were times when I absolutely adored Jenny, such as when she was helping Kimber with her wedding dress. But there were also times when I wanted to shake her, especially for hanging out so much with her ex. I enjoyed her relationship with Leo, from their initial snarkiness to their growing feelings for each other. I liked Leo's attitude at the dinner party when he refused to be the shallow type that the others were and how he tried to show Jenny that she wasn't doing herself any favors. I also liked seeing him try to protect her from herself. He saw her more clearly than she did herself. I also liked how Jenny saw the sad and lonely Leo beneath the "just for recreation" charmer that he showed the rest of the world. She pushed a little harder than he was comfortable with, but in the end he was able to share so much with her.
As a character, I loved Leo. I suspected his true connection to the house well before he admitted it. It was so much fun to see Jenny give him a hard time about his lack of skills. I loved his connection with his various students, especially Evander. I ached for him as various pieces of his past came to light. I cheered at Evander's audition, when Leo broke through his own barriers to help a boy in need. I wasn't sure if he would ever open himself up to the possibility of loving again, especially right at the end. I'd love to see more of him in another book.
Rachel was also an interesting character. She may be older, but she frequently seems young and naïve. Her shyness and social awkwardness don't do anything to change that impression. But she is a fantastic mother to her three girls, and I loved seeing everything she did with and for them. Of course, the early emphasis on how perfect her marriage is simply foreshadows that things aren't what they seem. I understood her need to believe the best of her husband, but also her underlying doubt. Their counseling sessions showed that, while she had some responsibility, Adam came across as a selfish prig. His attitude made me mad, and I completely understood Jenny's disgust with him. There were times I wanted to smack Rachel for her attitude, and I cheered for her when she took that weekend for herself, though I didn't like the conclusion she reached at the end of it. I was just waiting for Adam to screw up again, because I knew he would. It was great to see Rachel finally grow a backbone at the end.
There were supporting characters that added terrific depth to the story. Jenny's mother and her attitude were an additional stress, especially to Jenny. The backstory of her marriage and what Jenny knew of it added to Jenny's questions of what she should share with her sister. I loved the whole bit with Kimber, Mrs. Brewster, and the saga of the wedding dress. I felt for Kimber having to deal with that witch of a woman, and was mad at Jared for not seeing what it was doing to her. I loved the end result of the wedding dress fiasco. There was also a surprising twist involving Kimber's mother.