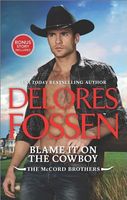 Series:
McCord Brothers
(Book 3)
Every cowboy has a wild side -- all it takes is the right woman to unleash it…
All of Logan McCord's carefully laid plans erupt the day he walks in on his would-be fiancée getting…well, not so carefully laid. Tonight, just once, Logan is acting on instinct. And that instinct is telling him to say "Happy to oblige" to the cute stranger looking for a no-strings fling with a Texas cowboy.
When chef Reese Stephens made her bucket list, she mistakenly thought she had weeks to live. Not that she regrets her one-night-stand with the gorgeous rancher. But she does regret leaving an heirloom watch as a parting gift. Tracking Logan down is easy. Walking away again is another matter. Because Reese's crazy past and Logan's battered heart are no match for the kind of chemistry that could turn one night into the start of a passionate lifetime.
Terrific conclusion to the McCord Brothers series. This is the story of Logan, the oldest brother (by a few minutes). In previous books we have seen him as the serious, conservative, rather stick-in-the-mud brother, who keeps tight control of his emotions. He's had a long relationship with a woman named Helene, who he sees as the perfect accompaniment to his well-planned future. At the beginning of this book he is ready to propose marriage to her, and enlist the help of his family to make it memorable. Which it is, but not in the way he expected, as they walk in on her having sex with a clown. Stunned by what happened, he escapes to San Antonio with the express intention of getting drunk enough to forget what he saw. There he meets a woman with her own agenda for the night.
Reese has recently been given a diagnosis that led her to believe she only has weeks to live. Determined to live it up while she can, she makes a bucket list of things she wants to do, one of which is a fling with a hot cowboy. The stranger in the bar fits the description perfectly and she makes him an offer he can't refuse. After a night of passion, she leaves him her prized possession, her grandfather's pocket watch, as a thank you, only to discover later that she isn't going to die after all. Now she has to try to find that cowboy and get her watch back.
The encounter between Reese and Logan after she arrives in Spring Hill is hilarious. Logan is with Lucky, his twin brother, leaving Reese unsure which brother she slept with. Logan, of course, recognizes her right away, but is extremely suspicious of her presence. He is determined to find out what she wants and get her out of town before their connection is discovered. Reese is more than willing to agree, but discovers that circumstances are working against both of them.
I loved seeing the relationship develop between these two opposites. Logan is the uptight, plan everything to the nth degree man, while Reese is a fly by the seat of her pants woman who doesn't stay anywhere for very long. Both of them also have some serious baggage holding them back. Logan lost his parents when he was nineteen and blames himself for arriving at the accident scene too late to save them. Reese is the daughter of two con artists who used her in their schemes until she was old enough to resist. She also feels responsible for the death of an abusive ex-boyfriend. Logan goes from suspicion to protectiveness as he sees her accosted by someone from her past. He realizes he doesn't really want her to leave town, but he's not so sure about a relationship with her either. However, he can't deny the attraction. Reese can't deny the attraction either, but feels that sticking around will only bring trouble Logan's way. She doesn't want her presence in his life to cause problems for him. I loved the ending as Logan sees that Reese gives him what is missing in his life. Their return to the San Antonio bar where they met is sweet, romantic and steamy.
There was so much going on that there was never a dull moment. Logan had to deal with the gossip about his breakup with Helene, and then with her return. Reese had to face multiple issues from her past showing up in Spring Hill, including her con artist mother. There are attempts to blackmail both Reese and Logan. The merry-go-round of who is blackmailing who and why is hysterical, as is the final resolution of the various attempts. I loved seeing the always on the straight and narrow Logan out con the con artists with the help and support of his family and friends. I also loved Reese's friend Jimena and her protectiveness toward Reese. Her colorful threats were fun as well as direct and to the point. I'd love to see her get her own story.