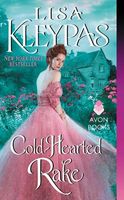 Series:
Ravenels
(Book 1)
A twist of fate . . .
Devon Ravenel, London's most wickedly charming rake, has just inherited an earldom. But his powerful new rank in society comes with unwanted responsibilities . . . and more than a few surprises. His estate is saddled with debt, and the late earl's three innocent sisters are still occupying the house . . . along with Kathleen, Lady Trenear, a beautiful young widow whose sharp wit and determination are a match for Devon's own.
A clash of wills . . .
Kathleen knows better than to trust a ruthless scoundrel like Devon. But the fiery attraction between them is impossible to deny -- and from the first moment Devon holds her in his arms, he vows to do whatever it takes to possess her. As Kathleen finds herself yielding to his skillfully erotic seduction, only one question remains:
Can she keep from surrendering her heart to the most dangerous man she's ever known?
Very good book, though I did have my doubts at the very beginning. Devon has inherited the title and estates after the unexpected death of his cousin. Both the debts and the responsibility are unwelcome, and he plans to sell the properties to pay off the debts as soon as he can. The opening conversation between Devon and his brother West shows two men who are focused on their own pleasures and avoid anything that hints of respectability. Devon even states his intention to turn his cousin's widow and sisters out of the house as soon as possible. Unfortunately for him, he is overheard by Kathleen.
Kathleen has not had an easy life. At the age of five her parents sent her to live with relatives. They were not loving, and were very focused on appearances. She learned early to keep her emotions to herself and to rely on herself for everything. She had married a man she hoped would give her the family she craved, only to have him die in a drunken accident three days after their wedding. Now she discovers she's about to lose her home too.
There were sparks between Devon and Kathleen from the beginning, mostly of the adversarial variety, but with an underlying attraction. Devon's callous decision to sell everything grated on Kathleen's sense of responsibility. She tore into him over his disregard for the effects his actions would have on so many people. He made it plain he didn't want the headaches that came with keeping the place. But something she said went to work on the conscience he didn't even know he had, and he found himself deciding not to sell. His brother's reaction wasn't complimentary, but when it came down to it, West agreed to help.
By this time, Devon has decided he wants Kathleen, but she isn't cooperating. She's attracted also, but is mindful of appearances since she is still in mourning. There are some pretty amusing exchanges between them over the next few weeks, as Devon is in London attempting to find ways to save the estate, and Kathleen remains in Hampshire. Devon makes the occasional visit, and the chemistry between them burns hotter.
At the same time, West is in Hampshire, unwillingly helping Devon. West has been even worse than Devon, with his careless behavior and heavy drinking. But a confrontation with Kathleen causes unexpected changes in him. I loved how she stood up to him. It was amazing to see the transformation he went through in both appearance and attitude. It also created a change in the relationship between West and Devon.
Devon's return to Hampshire created further tension between him and Kathleen. He hasn't given up on his plans to seduce her, and Kathleen is still desperately trying to resist. When Devon invites a friend for the holidays Kathleen is angered by his plans. Then a devastating accident makes both of them admit that whatever is between them is growing. But even giving in to the desire between them doesn't guarantee a future. Devon is adamant that he will never marry, and Kathleen doesn't want someone who avoids commitment anyway. It was fun to see her stand up to his plans for them with her own conditions. I loved Devon's "aha" moment, when he realized just how he felt about her, and how he finally convinced her of those feelings.
Though I didn't like Devon at the beginning, I really enjoyed seeing him change from irresponsible rake to a man who could be relied on. It wasn't an easy transformation, and he fought it each step of the way. It started with a protectiveness he didn't recognize, and his desire to stay near Kathleen. I had fun with their confrontations as the sparks flew between them. His protectiveness and jealousy at the end surprised them both. Though I liked Kathleen from the start, she too had her issues. I liked the way she looked out for the sisters, and how she was determined to keep them safe. Her upbringing had her very concerned about appearances, and there were times I was definitely on Devon's side to get her to lighten up. I liked the way she stood up for the people of the estate and opened Devon's eyes to his responsibilities. Her experience with her late husband made it difficult for her to trust Devon with her heart. I also got a bit angry with her interference in Helen's life, even though her intentions were good.
There was also a secondary relationship between Devon's friend Winterbourne and Kathleen's sister-in-law Helen. Devon had planned to set the two up as a way to marry off Helen and gain financial assistance from Winterbourne. The railway accident that badly injured Winterbourne gave he and Helen a chance to get to know each other a little. But Winterbourne is a blunt and rough around the edges man, and Helen is a very sheltered, innocent and shy young woman, and things don't go smoothly between them. A misunderstanding, and interference from Kathleen, puts their fledgling relationship at risk. At the end of the book, Helen takes her courage in hand to talk to Winterbourne about what happened. It's an interesting lead in to the next book, which is their story.