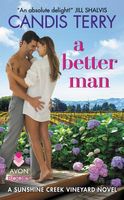 Series:
Sunshine Creek Vineyard
(Book 1)
Hockey star Jordan Kincade wasted no time ditching Sunshine Valley and everyone who mattered for a career in the NHL -- a truth Jordan confronts when his parents' deaths bring him home. Now he's back to make amends, which begins with keeping his younger sister from flunking out of school. It's just his luck that the one person who can help is the girl whose heart he broke years ago.
Lucy Diamond has racked up a number of monumental mistakes in her life, the first involving a certain blue-eyed charmer. She has no intention of falling for Jordan Kincade again, but when he shows up asking her to help one of her students, Lucy just can't say no. Worse, the longer he's back, the more she sees how much he's changed. And so when a blistering kiss turns to more, she can't help but wonder if her heart will be crushed again . . . or if she'll discover true love with a better man.
Terrific story of family, love and second chances. Jordan left his home and family behind at the age of eighteen, when he was drafted to play professional hockey. This had been his dream for many years, and it took precedence in his life. Everything came crashing down when he got a call from his oldest brother, telling him that their parents had been killed in an accident while on vacation.
I ached for Jordan when he got home. Thanks to his concentration on his career, he had spent little time with his family over the last fifteen years. He realizes that he doesn't know them anymore, and they don't really know him. The shock of his parents' death brings home to him the importance of his family to his life, and he is determined to make amends. I loved seeing him make it clear to the family that he is "all in". He offers to take on the challenge of finding out what has turned their little sister, Nicole, into what he calls a "baby dragon". This brings him in contact with one of her teachers, Lucy Diamond.
Lucy is Nikki's creative writing teacher. She is sweet and caring, a little bit vulnerable, but with an inner strength she doesn't realize she has. Lucy also has a history with Jordan. Back when they were in high school, she tutored him for one of his classes. At the time, he was a typical teenage jock - cocky, selfish, and quite the heartbreaker. She had a crush on him, but was concentrating on her studies as a way to get away from her dysfunctional parents. She resisted Jordan's advances until she finally agreed to go to their graduation dance with him, only to have him stand her up. She has never forgotten or truly forgiven him for that. She came back to Sunshine after a disastrous marriage and having taken a hit to her trust of men and her own instincts. She wants to help Nikki, but not get mixed up with Jordan again.
I loved the progress of the relationships in the book, both between Jordan and Lucy, and between Jordan and his family, especially Nicole. From the start, Jordan knew that he had screwed up with Lucy back in high school. I loved the way he admitted it right up front and had the class to apologize even after all these years. Even better was the way he made amends for that. He went to a lot of effort and it was fun to see it all happen from start to finish. I liked how Jordan asked for her help with Nikki, and how their work together brought them closer in their relationship. It was fun to see the buildup of the heat between them, and awesome to see Jordan's patience and understanding as he learned about her marriage and its effect on her. I liked seeing him go from self-professed playboy to thinking about Lucy as a permanent part of his life. He was a little freaked out by his feelings at the beginning, but really came to embrace them. Lucy had a hard time believing that he was really interested in her. She spent some time thinking that it was just a fling between them, and even that was a surprise to her. She was puzzled at times about how she could be falling for a man who was so different from her. Her confidence took a hit at the game she went to and she had an encounter with one of the groupies. I loved seeing Jordan's reaction to her trying to pull away. There was also a great scene involving the local newspaper that showed Lucy's growing confidence in herself and how much she cares for Jordan. The ending was great, and I loved Jordan's big moment.
His relationships with his family were a bit complicated. Because he had been away for so long, with infrequent visits, he felt like he had lost his connection with them. I ached for him as he looked at them and realized what he had done by staying away. I loved that there didn't seem to be any real resentment from his brothers, all of them understood the importance of his career to him. That was especially obvious when each of them showed up to keep him company as he watched his team play on television. However, that acceptance didn't extend to his sister. Nikki's teenage attitude and anger, especially at him, confused the heck out of him. I loved the way it didn't stop him from trying. He was not going to give up, and with Lucy's help he started to get through to her. I really enjoyed his decision to take her along when he had to return to work. The scenes at the practice and the game were great. I also loved seeing his support of her when she finally told him what was bothering her. I loved seeing the effect it all had on Jordan and the way he viewed his future. He had some important decisions to make, and I loved watching him work it all out.

There were a couple of questions running through the book that didn't really get answered, so I expect they will also run through the other books in the series. One question was who was responsible for the money missing from the business? Aunt Pippy behaves oddly whenever the subject comes up, but does she know anything? When they discover who, the question becomes why? Another question comes from Nicole and explains some of her angst during the book. An argument with her father before he left on the vacation has her wondering if there's something no one has told her. Telling her brothers brings no resolution, just disbelief and more questions. Then there is the fact that the business is in trouble, and they are all needed to help turn it around. I liked the sharing of ideas and am looking forward to seeing how it goes.