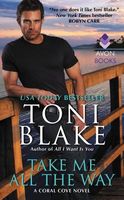 Series:
Coral Cove
(Book 3)
You can't go too far when you're fighting for love . . .
Tamra Day swore off men a long time ago. Her art, her friends, and her garden have always been enough . . . until now. Suddenly, Tamra is aching for a connection. Unfortunately, Coral Cove's most eligible bachelor is the troublemaker who's building the mini-golf course she's designing. Brusque and sarcastic, he's made a habit of annoying Tamra. But more infuriating is the fact that Tamra can't help noticing how sexy he is.
They call him a war hero, but Jeremy Sheridan knows better. Still haunted by painful memories from Afghanistan, he's just hoping for a fresh start. So far, the only problem is his new boss, Tamra, a control freak who's easy on the eyes -- and way too fun to tease.
Despite their differences, Tamra and Jeremy aren't as alone as they think they are. And together, with a little Coral Cove magic, they'll discover how good it feels to embrace a bright new future.
Good book. Both Jeremy and Tamra have had things happen to them that have caused them to put up walls to keep people out. But when their lives collide in little Coral Cove, they find those walls getting pretty shaky. Tamra is a familiar character from the previous books,
All I Want is You
and
Love Me If You Dare
. She is part of the artist community who sells her work on the boardwalk each day. She has her friends to hang out with, but she doesn't date. Jeremy was mentioned in a few of the Destiny, Ohio books, where he was known as being the local sports hero and heartthrob in high school. He joined the Marines and went to war, and came back a changed man. After spending time with his family in Destiny, he realized he needed a change and moved to Coral Cove.
Tamra has designed the town's new mini-golf course and has been put in charge of getting it built. After hiding out for a couple weeks, Jeremy realizes he needs to force himself out and about and finds himself hired to help build the course. In their first few encounters, Tamra and Jeremy butt heads frequently. She thinks he's rude and he thinks she's uptight. And though neither wants to admit it, they are really attracted to each other. It was great fun to see Jeremy purposely irritating Tamra, just to see how she'd react.
All that head butting also stirred up a lot of sparks between them. Their personal issues first had them trying to avoid each other, but they quickly realized that wasn't working. I loved the banter between them as they moved from cautious truce to friendship to something more. Thanks to her past, Tamra has trouble trusting men. Jeremy is suffering from PTSD, aggravated by his feelings of guilt over something that happened during the war. As their relationship develops, they slowly start to open up to each other. I loved the challenge that they gave each other because of it, and how the results of that challenge increased the sparks between them. When the heat finally took over, there were some incredible moments. It was plain to see that the feelings for each other were growing. But a moment of passion inspired honesty from Tamra sends Jeremy running. I ached for Tamra, who had finally opened herself up to trusting someone with her feelings. I loved how she handled it, and seeing her with her friends warmed my heart. At the same time I wanted to smack Jeremy upside the head for being so blind. It just took him a little longer to get past his issues, with the help of one of his Marine friends, and the unexpected input from Abner. I loved his honesty with Tamra at the end, showing that it wasn't an easy resolution but a work in progress.
There was also a secondary story with Tamra's friend Fletcher. He, too, has been present throughout the series. He is a tightrope walker who performs on the beach every evening. He took up residence in Coral Cove four years earlier, when his wife, Kim, took off, leaving only a note that everything would be ok. He has been insistent that she would come back, so he would wait for her in the last place they were together. His friends aren't so confident, and by the middle of the book he is starting to have doubts himself. A visitor to Coral Cove has him seriously thinking of moving on with his life, until Kim shows back up. It was interesting to see the differences that four years apart made. I ached for Fletcher and his confusion. I seriously wanted to give Kim several kicks in the tail for hurting him. I really wondered how their story was going to end up and if it would be the way I wanted it to.
Though I would love to see the series continue, my feeling from the epilogue is that this was it. I loved catching up with what everyone was doing, and seeing some of the changes that have come to Coral Cove.