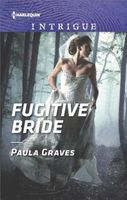 Series:
Campbell Cove Academy
(Book 3)
THE BEST MAN…IN EVERY WAY
Watching his best friend marry the wrong man is Owen Stiles's worst nightmare…until he and the would-be bride are kidnapped. Someone wants Tara Bentley out of the picture, enough to frame her for the murder of her fiancé. All that stands between Tara and destruction is Campbell Cove security agent Owen.
Moments away from calling off her wedding, Tara's life is turned upside down. Now the man she's always considered her best bud has transformed into some kind of sexy special agent. Owen is prepared to do anything to clear her name and secure her safety. But who's keeping her heart safe from him?
Action filled friends to lovers story. Tara is getting ready to marry the perfect man. After growing up seeing her parents' unhappy marriage, she had a list of the things she required, and Robert met them all. But an hour before the wedding, she's ready to call the whole thing off. Before she can do so, she and her best friend, man of honor Owen Stiles, are kidnapped.
Owen and Tara have been best friends since they were in the sixth grade, there for each other through their crappy childhoods. But lately, Owen has wanted more than just friendship, so seeing her marry someone else is a special kind of agony. But before the wedding can take place, Tara and Owen are kidnapped.
Though Owen is more computer geek than agent, he has the basic training that all Campbell Cove Security employees get, and he and Tara are able to escape their kidnappers. After a flight through the woods and a night in a deserted cabin, Owen is able to reach his boss Alexander Quinn, only to find that Tara's fiancé has been murdered and she and Owen are suspects. As always, Quinn is there for his people and gets them to a safe place for the night while he tries to get more information. But the plan they come up with is derailed when Tara spots one of the kidnappers in the uniform of a local deputy. I loved their escape scene, with the bit of play-acting and the discovery that Quinn had planned for any occurrences. Owen is determined to protect Tara, and they go on the run while trying to figure out why Tara has been framed for murder. At the same time, Owen is desperately trying to keep his hands off Tara.
I liked Tara, but I loved Owen. He's been in love with Tara for a long time, but has respected her wishes to keep their relationship as friends only. It's getting harder to do, and spending all their time together has brought him to the breaking point. I thought he had an incredible amount of patience to be able to continue as they were. He knows her well enough to understand her fears, but no matter what he says, he can't get her to take the risk. Tara's friendship with Owen is her safety net. He has always been there for her no matter what she needed. She is attracted to him also, but terrified that if they do anything about it that it would ruin their friendship, leaving her with no one. She flat out refuses to take that chance. But when their lives are in danger, she realizes what is really important. I loved their big moment at the end, which was sweet and romantic with an unexpected twist.
The suspense of the story is really good, and kept me hooked all the way through. There are questions about why her fiancé was murdered and what it had to do with her kidnapping. And why was she taken, when the project information she has would be useless within days. There are also questions about which side the local investigator is on. There were a couple interesting twists that increased the danger to Tara and Owen, and left them at the mercy of the bad guys. The final confrontation was intense and I felt really badly for Archie. It was also interesting to see the tie-in between this story and a previous series.