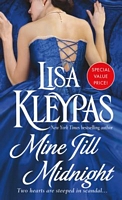 Series:
Hathaways
(Book 1)
THEIR LIVES DEFY CONVENTION.
When an unexpected inheritance elevates her family to the ranks of the aristocracy, Amelia Hathaway discovers that tending to her younger sisters and wayward brother was easy compared to navigating the intricacies of the ton. Even more challenging: the attraction she feels for the tall, dark, and dangerously handsome Cam Rohan.
THEIR DESIRE CONSUMES THEM BOTH...
Wealthy beyond most men's dreams, Cam has tired of society's petty restrictions and longs to return to his "uncivilized" Gypsy roots. When the delectable Amelia appeals to him for help, he intends to offer only friendship--but intentions are no match for the desire that blindsides them both. But can a man who spurns tradition be tempted into that most time-honored arrangement: marriage? Life in London society is about to get a whole lot hotter....
Fantastic story. The Hathaway family is a bit different than the usual HR. They are of noble birth but without the usual type of society background. There is Leo, the oldest, who recently inherited a title, followed by our heroine, Amelia, and her sisters Win, Poppy, and Beatrix. There is also a not quite family, not quite servant Gypsy man named Merripen who is an integral part of the group. Life has been difficult for the Hathaway family recently. A scarlet fever epidemic killed their parents, Leo and Win nearly died, Leo's fiancée did die. Leo has been so devastated by Laura's death that he is doing his best to kill himself with dissipation. The man that Amelia loved threw her over for another woman. As Leo has no interest in anything but his own misery, Amelia has taken over the running of the family.
As the story opens, Amelia is searching for Leo, who has disappeared once again. She is determined to take the family to their estate in Hampshire, away from the memories and pitfalls of the city, where they can begin again. Amelia is stubborn, independent, and convinced that she is the only one standing between her family and disaster. In her search for Leo, she encounters Cam Rohan, the half-Gypsy/half-Irish manager of a gambling establishment. Though he has no intention of interfering in their family issues, Cam finds himself unable to refuse to help Amelia find Leo. Once he does, he thinks that the end of it. Fate has other plans, and they meet again in Hampshire in a most unusual manner.
Amelia was impressive and frustrating. I loved her determination and her protectiveness toward her family. She will do anything for them. However, she is a bit overprotective and controlling, especially when it comes to Win and Leo. She tends to take charge, steamrollering over any objections. She also exhibits a very human side. I loved that she wasn't always cheerful and unflappable, but shows the effects of bad days, frustration with her siblings and others, and the occasional loss of her temper. There was also a hysterical scene involving a lizard and a dinner party where her behavior was not what I expected.
Cam was wonderful. We get a little bit of his background, and I have high hopes of learning more in later books. He was taken from his Gypsy family at the age of ten and went to work for the gambling house. As an adult, he is the right-hand man to the club owner and extremely (and unwillingly) wealthy. He has a bit of an internal battle going on between his Gypsy and Irish sides, which has made him rather restless. One of my favorite things about him is that he is comfortable with who he is. He has accepted that he is considered an outsider by both Gypsy and non-Gypsy folks, that he has the respect and friendship of those who mean the most to him and doesn't care about anyone else's opinion of him. He thinks about walking away from it all and returning to the Gypsy way of life until he meets Amelia.
I enjoyed the development of Cam and Amelia's relationship. There were sparks between them from the start, though they initially try to resist. Cam quickly became very protective of Amelia. Once he realized that she was the perfect woman for him, Cam was pretty relentless in his pursuit of her. I loved his way with words as he would tell her of his intentions. He also did not suffer from "I'm not good enough for her," that society could deal with them or not. Amelia was a little harder to convince. She did not doubt the power of their attraction, as shown by the flames that erupted between them whenever he touched her. But she was afraid that a half-Gypsy man would never be content in a traditional marriage, and would begin to resent her instead. I loved that Cam didn't give up on making her see that they were meant to be together.
There were also some secondary stories going on. First was the whole issue with Leo and his dissolute attitude. I was very frustrated with his whole "poor me" attitude. Losing his fiancée sucked, but he still had four sisters that he was responsible for. He redeemed himself a little at one point where he supported Amelia during her encounter with her ex, but that was a very small moment. I ached for him at the end, when Cam made him face his past and make a decision.
There was also something going on between Win and Merripen. Merripen's background is very mysterious, and there appears to be some connection with Cam, outside of them both being Gypsies. He is also very protective of Win and sensitive to her moods. I loved the whole cleaning scene and the solution he came up with that satisfied both her and Amelia. It is quite obvious that Merripen is in love with Win, but he does feel unworthy of her. It is hard to tell at first if Win feels the same way about him. Things get very interesting after the fire in which Merripen is injured, and I loved how the fragile Win comes out on top. I am looking forward to their story.