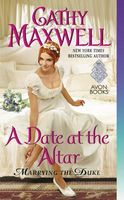 Series:
Marrying the Duke
(Book 3)
Will the third time be the charm? A duke can't marry just anyone. His wife must be of good family, be fertile, be young. Struggling playwright Sarah Pettijohn is absolutely the last woman Gavin Whitridge, Duke of Baynton, would ever fall in love with.
She is an actress, born on the wrong side of the blanket, and always challenges his ducal authority. She never hesitates to tell him what she thinks.
However, there is something about her that stirs his blood . . . which makes her perfect for a bargain he has in mind: In exchange for backing her play, he wants Sarah to teach him about love.
And he, in turn, has a few things to teach her about men . . .
Good book. I was glad to see Gavin finally get the girl, after losing out (to his own brothers!) in
Match of the Century
and
The Fairest ofThem All
. In the first book the woman he's been engaged to all his life because of a family arrangement, has actually been in love with his brother Ben for years. In the second book he loses out to the twin brother who has been missing for years and suddenly reappears.
For the most part in the first two books, I liked Gavin. I also felt a bit sorry for him. As the heir, he was raised very strictly by his father, with a sense of responsibility and importance of appearances drilled into him. He's been so intent on his responsibilities as duke that he has never taken the time to cut loose like others of his class. It has made him rather stiff and awkward around women, and he usually has no idea what to say to them. He is also no real believer in love, though when he sees it in the previous two couples he does the right thing and steps back. He's not perfect, though, and has his moments of reacting badly. At the end of the previous book, he is in pursuit of Jack and Charlene, who are eloping to Gretna Green. With him is Char's Aunt Sarah, who rubs him the wrong way. They arrive before the wedding, but Gavin sees the light and lets Char go, leaving him alone again.
Sarah is an independent woman with a mind of her own and plans for her future. She is a survivor of a life that hasn't been easy. She is the illegitimate daughter of a nobleman and his mistress. For years she watched her mother go from man to man and vowed she wouldn't follow in her footsteps. She married a man who turned out to be abusive, causing her to doubt her judgment about men and keep them at a distance. After the death of her husband she became an actress to earn the money to care for her orphaned niece, then worked as an assistant playwright. She is determined to put on a play of her own writing. She makes a deal with a pair of theater owners to do so, but things don't go the way she planned. Gavin ends up rescuing her from a dangerous situation.
I loved the relationship that built between them. In the previous book there had been sparks of antagonism, but those were mixed with sparks of attraction. Gavin's rescue of Sarah brings his attraction to her to the surface. There is also a need to protect her when he discovers the conditions she's living in. The protection he offers isn't what she wants, as it goes against everything she wants for herself, and she has no problem telling him so. But circumstances cause her to have to take him up on it. This is where Gavin shows his true self. He wants her very much, but is sensitive to the fear he senses in her. I loved the way he backed off and talked things out with her. I loved Sarah's confusion, as she had very definite expectations and Gavin didn't match any of them. The connection between them when they finally came together was not what either expected. Over the next few weeks they got much closer, as Gavin found himself wanting to spend as much time as he could with her. I loved the way they shared their lives, sharing bits about their days and supporting each other. Sarah made a good sounding board for his problems, and he was an active supporter of her play.
But Gavin still has to find a wife, because as much as he wants her, Sarah doesn't fit the requirements he's been looking for. He's understandably reluctant, even as his mother and aunt find the "perfect" woman. I ached for Sarah as she realized that she had fallen in love with Gavin, but that nothing could come of it. I loved how she picked herself up and went on, because that is what she does. I also ached for Gavin, who wanted what he believed was impossible to have. I loved the conversation with his first fiancée's father, and the difference it made to his outlook. Gavin's big moment at the end was sweet and romantic, and so out of character for him that it was irresistible.
There wasn't much in the way of secondary characters except for one fellow nobleman. Though he had started out as a friend of Gavin's, he turned out to be a real loser. Rov's pursuit of and attitude toward Sarah earned him Gavin's enmity. The duel scene showed just how awful a person he was, and that wasn't even the end of his troublemaking. I enjoyed the final confrontation with him and how Gavin dealt with him.