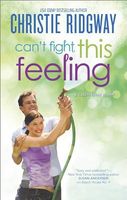 Series:
Cabin Fever
(Book 3)
Blue-collar landscaper Brett Walker has no interest in the Hollywood vacationers flocking to his hometown in the California mountains. But the scarred ex-soldier does have a duty to protect Blue Arrow Lake -- and the family ski resort -- from a serial burglar. So when he suspects a break-in, he takes action…and ends up catching sinfully tempting down-on-her-luck heiress Angelica Rodriguez. She reminds him of trouble, but he can't deny her a safe place to stay -- in one of his cabins.
Angelica has plenty of reasons to distrust -- losing her money to her father's legal woes being one of them. Getting up close and naughty with rough, tough and sexy Brett tempts her out of her comfort zone and into the arms of a man who's not from her wealthy world. She's after safety and he's chasing justice, but the fire between them might reveal that all they want is each other.
Good book. Brett is the oldest of the Walker siblings. He came back to Blue Arrow Lake after his time in the military and started his landscaping business. He takes care of the lawns of the rich tourists who come to the lake each summer. He's also been keeping an eye open for a burglar who has been hitting those summer houses. When he spots an intruder at one of the houses, he's surprised to find Angelica - who lived in that house - behaving in a suspicious manner.
Angelica is the daughter of a wealthy financier who has been arrested for fraud. His accounts have been frozen and she's no longer able to stay in the house. To top it off, her father had helped himself to her money also, so now she's broke and homeless. She sneaked into the house to get some of her clothes and other things while she still could. Being discovered by Brett, the man she'd been crushing on all summer, was not her idea of cosmic justice.
I really liked Angelica. She isn't one to feel sorry for herself, she just picks herself up and carries on. She has found a part time job working with her friend Glory at the hardware store and is living in the local cheap motel, until it shuts down for the season. She also has more than her share of pride, and spends two nights sleeping in her car rather than ask for help. I loved the way that she took to living in the mountain town, where she quickly made a place for herself among people who are slow to accept strangers.
I liked Brett too, though he was a little harder to warm up to. He has a reputation as a serial dater and confirmed bachelor. He doesn't allow any woman to get too close, having been burned before. He feels that he has lost the ability to love or be loved, at least in his own eyes. But his caring relationship with his family shows otherwise, and that same protectiveness comes out when he's around Angelica.
I liked the development of their relationship. First up is the obvious chemistry between them, but both try to resist it. That doesn't work for long, as the attraction is just too strong. Though he tries to tell himself that he doesn't trust her, Brett can't help but watch out for her. I especially loved his reaction to her sleeping in her car, and what he did about it. There's still a lot of antagonism between them, as Brett's mistrust is obvious and she refuses to put up with it. I really liked seeing her blow his expectations every time. Every time they start to get a little closer, Brett gets spooked and does something to put distance between them. He's not very good at thinking before he speaks, and manages to say some rather cruel things while trying to protect himself. He always apologizes, in his own rather bumbling way, which comes across as a bit sweet and vulnerable. I ached a bit for Angelica, because she knew her feelings and what she wanted, but couldn't get Brett to let go of his own issues to see what they could have together. He almost left it too long, but in the end got it right. He did have a rather unusual "big moment" in how and when he confessed his feelings.
There was a secondary love story involving Glory and a newcomer named Kyle. There's definitely attraction between them. But Glory has spent most of her life working the family hardware store and doesn't see that changing anytime soon. Kyle is very interested in her and unceasing in his pursuit of her. But there's something about him that she doesn't know and it would put a whole different outlook on what she's starting to feel. I really liked Kyle's patience, though he should have told her the truth sooner. He could also see that she wasn't as happy with her future as she thought she was. It was interesting to see how hard she was fighting against what her heart wanted. I loved the scene at the hardware store at the end when she made her decision.
I liked seeing more of Brett's sisters and their lives. It was neat to see how Poppy (
Take My Breath Away
) and Sage (
Make Me LoseControl
) were doing after they found their HEAs. It was fun to see how close they all are and the support that is always there if needed. I also enjoyed seeing them all weigh in on Brett's life and relationship with Angelica. I liked getting to know Mac a little better and can't wait to read the story of her and Zan.
There was also a little bit of suspense running through the book. There had been a rash of burglaries around the town, and everyone was on edge wondering who it could be. I had a suspicion of who it was fairly early on and just had to wait to see if I was right. The motivation was also important, and was a little bit of a lead in to the next book.