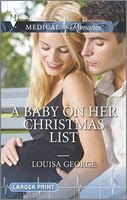 Best friends…to parents?
Nurse Georgie Taylor has just one thing on her Christmas list: a baby! But she never expected her best friend, broodingly handsome Dr. Liam MacAllister, to offer to be the father…
Liam's heart has always been strictly off-limits—a baby is the last thing on his Christmas list! But he'll do anything to make Georgie happy, and seeing her pregnant with their miracle baby ignites feelings that he just can't ignore…feelings that could destroy a beautiful friendship—or result in so much more!
Emotional friends to lovers story. Georgie is twenty-eight years old and really wants a family of her own. But her search for Mr. Right hasn't been going so well and time is running out, so she's decided to go it alone. Disappointed when her first choice for a donor is unavailable, she's surprised when her best friend Liam offers to be the donor. Liam has never made any secret of the fact that a family is not in his future plans.
I liked both Georgie and Liam. Georgie was abandoned as a baby and grew up in foster and group homes. All she has ever wanted is a family of her own and a chance to love and be loved. I liked the way that she considered her options and made her decision, then stood by it, even in the face of Liam's initial disapproval. She is a woman with a kind heart, which comes out frequently in her interactions with her patients.
Liam is a workaholic who spends much of his time providing medical services to war-torn or disaster affected areas. He uses his job to keep from forming any kind of emotional bond with other people. A childhood tragedy has left him with feelings of guilt and a need to pay a sort of penance. Even Georgie is only allowed so close. But giving her what she wants so badly opens him up to feelings he never expected.
I really enjoyed the development of their relationship. The two of them have been friends for eight years, setting each other up with dates, hanging out together in between. But Liam is shocked by Georgie's decision, and tries to talk her out of it, even at the risk of their friendship. When he realizes how serious she is, he offers to help, since he just wants her to be happy. He's also surprised to realize that the idea of her carrying some stranger's baby bothers him more than it should. Along with the connection they now share, both begin to experience an unexpected attraction to each other. As Liam heads off on another medical mission, he hopes that it will go away before he returns. Liam had initially told Georgie that he only wanted to be a donor, not be involved with the child in any personal way. But while away, he realized that he didn't want his child to feel the way he did. Now all he has to do is convince Georgie that he's serious.
Georgie has spent too long watching Liam keep everyone at a distance, and is reluctant to believe that he won't change his mind yet again. Especially with the unexpected heat that keeps building between them putting a strain on their friendship. Neither wants to risk giving in to the attraction and have it ruin what they've had together. I loved seeing Liam's protective nature come out in the way that he takes over doing many of the repairs and renovations on her house. He also keeps a close eye on her health. The biggest problem he has is that, in doing all these things with her, his attraction to her keeps getting stronger. Georgie is feeling the heat herself and starts to wonder if maybe they can give in without risking their friendship. When it finally gets to be too much to resist, each is blown away by how good they are together. As the weeks go by, they keep getting closer, to the point where Georgie is even able to get Liam to talk about what had happened to him as a kid. Georgie is falling hard for Liam, but still can't tell what he really feels about her. Until he gets a call for another mission and their two differing philosophies of life collide in a spectacular blowup. I ached for Georgie and her broken heart, but was impressed with her determination to keep moving forward. It took Liam arriving at his destination and realizing what he had left behind to open his eyes to the changes in his own feelings. I loved his big moment at the end, as his vulnerability combines with his determination to convince her of his feelings. His arrival was perfectly timed too!

I loved some of the descriptions of the places that Liam and Georgie visited together, from their bike ride to the island and vineyard. I really felt as though I was there, which makes me even more determined to visit New Zealand someday.

**copy received in exchange for honest review