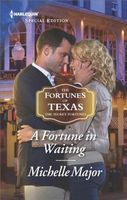 Series:
Fortunes of Texas: The Secret Fortunes
(Book 1)
FORTUNE ON THE MENU
Even in a town as eclectic as Austin, Keaton Fortune Whitfield stands out. With his dreamy British accent and his slate-blue eyes, he has captured the fancy of every red-blooded Texas female in town…except one. Francesca Harriman, his favorite waitress at Lola May's, seems completely immune to his charms. When she's not on her shift, she's too busy studying to pay attention to him -- which only makes him want her more.
Francesca has been burned before, and she won't let the Londoner melt her heart. What would a brilliant, wealthy architect want with a commoner like her? She's not about to abandon her schooling to become Keaton's catch of the day. Could a hash-slinging waitress really find happiness with a Fortune?
Very good book. In the previous series (
Fortunes of Texas: All Fortune's Children
), the children of Gerald Robinson have discovered that their father used to be Jerome Fortune before he changed his name. He was also a philanderer, and they found out that they have an unknown number of half siblings. Keaton is one of the first that they have located. A well-known architect in London, he has come to Austin to work on a project there and use the time to get to know his new siblings. He usually has dinner at the same diner and has become fascinated by one of the waitresses, Francesca.
Francesca has recently left a long relationship and is getting back on her feet. She works full time at the diner and also carries a full course load at the local university. When she isn't working she is studying, and doing her best to ignore the sexy Brit.
I loved the relationship that grew between Keaton and Francesca. Both of them are really nice people. Francesca is wary because she can't really see anything coming of it, as they come from such different worlds. Her treatment by her ex-boyfriend left her especially low in confidence. Keaton is cautious also, as he has not seen himself in a committed relationship. He worries that he's like his father and would hurt whoever he loved. I loved the sweet and respectful way that Keaton treated Francesca, and the thought he put into the things they did together. There was also an intense attraction that burned between them, and also provided some amusing moments. Both tended to get a bit flustered around the other, creating some awkwardness and occasional clumsiness. When they give in to their attraction, it's far more intense than they expected. Francesca realizes that she's falling hard for Keaton, but pulls back when his reputation runs into her insecurities and his fears. Keaton has to decide if he's going to believe that genetics can win, or if he can be the man she deserves. I loved his conversations with his brother Ben and his mother helped open his eyes. His big moment at the end was romantic and emotional with an awesome climax. The epilogue was great too.
I also liked the continuation of the Fortune story. Keaton's developing relationships with his siblings was great. His determination to help find any other siblings and help them deal with "becoming a Fortune" was fantastic. I liked catching up with the various characters from earlier books and seeing how they are handling the changes too. I loved seeing Keaton's feelings as he gets to know his brothers and sisters.

*copy received in exchange for honest review