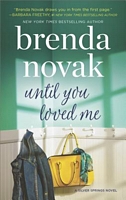 Series:
Silver Springs
(Book 3)
Sometimes starting over means finding everything you've been missing…
After catching her fiancé cheating -- with another man -- usually straitlaced, workaholic scientist Ellie Fisher liberates her wild side just long enough to indulge in a passionate one-night stand with a tall, dark stranger she meets at a trendy Miami bar. Embarrassed by her recklessness, she ducks out the following morning without learning the guy's full name, something that shouldn't have been a problem…until a pregnancy test turns positive.
Being a professional football player, Hudson King has always been cautious around women. But this one had been different -- so disinterested in his celebrity, so convincingly into him. When Ellie tracks him down, claiming she's carrying his baby, he's stunned. And more than a little betrayed.
But after growing up as an orphan, he'll do anything to stay involved in his child's life, so he urges Ellie to move to Silver Springs, where they can co-parent. Hudson has a lot of love to give, certainly enough for his child, and when their initial spark reignites, perhaps for Ellie, too…
Good story about two people with some trust issues. The story opens with Ellie being dragged to a club by her friend Amy. For the last couple months, Ellie has been dealing with the fallout of finding her fiancé in bed with another man by immersing herself even further in her work. She's pretty bored at the club until she notices the good-looking guy sitting alone in the back corner of the club. She's surprised when he approaches her, but he seems nice. A long walk on the beach and some hot kisses in the moonlight lead to an even hotter night in his bed. Embarrassed by her behavior, she sneaks away the next morning without exchanging more than first names.
Hudson is a pro football player in town to play against the local team. He's dragged to the club by his new agent but isn't really in the mood to be there. He hates being the center of attention, so he's hiding out in the corner until he notices Ellie. What amazed him most was that she appeared to have no idea who he was. The novelty of being treated like a normal guy added to the attraction he felt for her. He was surprised to find her gone without a trace the next morning.
I really liked their instant connection that night. Hudson's interest in her and obvious attraction to her goes a long way toward making Ellie feel better after the disaster of her broken engagement. I loved how comfortable she was with him, able to talk about anything without feeling awkward. I ached for Hudson, who was so used to being sought out for his fame and fortune. It was sweet to see him relax and enjoy being an ordinary guy. I could sense that bit of hurt when he woke up to find her gone. That connection remained with them as neither was able to forget their time together.
I loved the fact that Ellie felt it was important to let Hudson know about the baby. She was nervous about being a single parent but ready to raise him on her own since she didn't know how to find him. Her reaction when she found out Hudson's identity was realistic. I loved her determination to do the right thing. Unfortunately, Hudson's trust issues rear their ugly heads and he doesn't react at all well to her news. I ached for Ellie when her expectations were so rudely shattered. I was frustrated by Hudson's cruel words since I thought he was better than that. Fortunately, he redeemed himself pretty quickly once he got over the shock. His actions as he was there when Ellie needed him showed that he was a stand-up guy after all, but he had an uphill battle to prove himself to her.
I liked the development of their relationship. Once the drama of the revelation was over, and Ellie recovered from her illness, their maturity had a chance to show. I liked that they had an honest conversation about the best way to deal with her pregnancy and their relationship. Though the attraction is still there, neither is willing to make any permanent commitment. Ellie doesn't see how her nerdy self could keep the interest of a man who is used to so much more than she is. She knows that she could fall for him and is desperate to protect her heart. Hudson never planned to marry or have kids. He was abandoned as an infant, grew up in a series of foster homes, and feels that he doesn't know how to give the love that a child would need. But he refuses to reject a child the way he felt rejected all his life. Once Ellie and Hudson are living in the same house, they have the opportunity to get to know each other and discover that there is much to like. Though they try to maintain their distance physically, the attraction between them is too strong. But it isn't just lust that finally draws them together, but the need for emotional comfort. I loved Ellie's determination to be there for Hudson as he deals with his whole background issue. Her belief in him and that he was more than his parentage gave Hudson the strength he needed to face those issues. I ached for Hudson and his conflict of wanting to know but being afraid of what he might learn. The growth of his feelings for Ellie made him feel protective of her, which also affected his ideas of what to do. I liked seeing them take that leap of faith, opening up their hearts to the hope of love in spite of their fears of rejection. The epilogue was good. I especially enjoyed Hudson's delivery room feelings.
The story of Hudson's search for his parents was heartbreaking at times. His need to know was understandable, and I ached for the loneliness that was evident in that search. He had so much love to give, and it was buried under those feelings of rejection. I hurt for him as the PI he hired turned up leads that seemed to hurt more than help. I loved Ellie's insistence on helping and wasn't surprised at what she uncovered. I liked the final resolution, but it felt a bit rushed. I would have liked a bit more detail, especially regarding the PI and his actions.