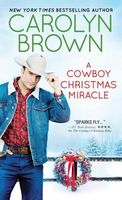 Series:
Burnt Boot Texas
(Book 4)
It will take a miracle bigger than the state of Texas for these two feuding families to survive the holidays
Opposites might attract...
The Brennans and the Gallaghers put aside their one-hundred-year feud every Tuesday for their weekly poker game. This week, the stakes are sky-high. Goaded to recklessness, Declan Brennan bets one thousand dollars that he can woo the next woman to walk into the saloon. A minute later, fiery-haired Betsy Gallagher pushes through the doors. If Declan can tame this wild Gallagher, he'll have earned every penny.
If they don't kill each other first...
Betsy can outshoot anybody in Burnt Boot and loves ranching more than anything-until she falls for Declan. He's fallen for her too. But when she discovers what sparked their courtship, Declan will need a Christmas miracle to save his hide-and his heart.
Terrific conclusion to the Burnt Boot series. In the previous books, we have seen the escalation of the feud between the Gallagher and Brennan families, led by the family matriarchs, Naomi and Mavis. These two old ladies can't pass up a chance to yank the other's chain, which has resulted in some pretty hysterical events. There are a few neutral territories, such as the church, store, and bar, where members of each side must leave the feud at the door. This story begins at the bar, where the Gallaghers and Brennans compete in the weekly poker game. This time around the two most notorious playboys of the families enter into a bet that promises trouble like they've never seen before. Tanner Gallagher bets Declan Brennan that he can't seduce the next woman to walk into the bar. I loved Tanner's reaction when it's his cousin Betsy who becomes the target of the bet. Betsy has her own frustrations right now. She is Naomi's chosen successor, but she is frustrated with the whole feud thing. Her cousin Angela is sad because the feud has canceled the annual Christmas pageant, which means her new baby boy won't be able to be baby Jesus. Betsy has promised to fix the problem, even though Naomi has put her foot down. Betsy is at a loss about what to do.
Declan had been crushing on Betsy since they were kids, but a Brennan going out with a Gallagher? Not going to happen. When he finds Betsy at his favorite "thinking spot" and discovers her dilemma, it gives him the perfect excuse to spend time with her without Betsy getting suspicious. Betsy is wary of working with Declan. He's a Brennan, after all, and the crap will hit the fan if they are found out. Plus, she's had a thing for him since they were kids in Sunday School, and she just knows that spending time with him is going to put her heart in jeopardy.
I liked both Declan and Betsy. In spite of his playboy reputation, he is charming, sweet, and unexpectedly romantic. He finds some unique ways to spend time with Betsy. He also feels guilty about the bet at times, even though it gave him the reason to make his first move. In previous books, Betsy had been something of a brash man-eater, going after the new men in town. In this book, we see the softer side of her, the one that wants a life of her own. Her conversations with herself were pretty funny as she tried to fight her feelings.
I loved the development of Betsy and Declan's relationship. The necessity of keeping their work together a secret added the spice of danger to the sparks that grew between them. I loved how, when they put aside the feud, they discovered that there was so much that they had in common. I loved the "dates" at their "apartments" and the chance that a snow and ice storm gave the "Wisemans" the opportunity to spend quality time together. I ached for them both as their feelings grew along with the fear that the feud would keep them from the future they wanted together. Their frustration gave them each the fuel and motivation they needed to stand up for their own desires. I especially loved seeing Betsy push back against the pressure she gets from Naomi. The intensity grows when both Betsy and Declan end up competing to purchase the same piece of land. The ranch's owner, Lottie, was a trip and a half, and I loved her commentary, rules, and general feistiness. Of course, eventually Betsy finds out about the bet. Tanner was right to be scared of Betsy's temper, and I thoroughly enjoyed her retaliation, both in the bar (immediate gratification) and later as she found the perfect revenge. Dealing with Declan was a whole different story. I enjoyed how it went, from her being mad and expressing it, to Declan's patience as he waited through it, and his so romantic expressions of his feelings. His big moment at the end was great.
The progress of the feud throughout the series and in this book was fun to follow. Though it seemed that both sides were all in, as the series progressed there were some cracks that started to appear. I loved seeing both Declan and Betsy join forces to deal with the trouble caused by their grandmothers' stubbornness and the effect it ended up having on the whole town. The final scene at the church was awesome, and I loved seeing the grannies get what was coming to them.
Though the series is done, I'd love to see some more books come out of Burnt Boot. I think that Tanner and Quaid still need their own stories.