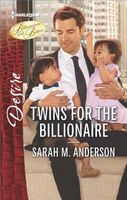 Series:
Billionaires and Babies
(Book 87)
Seducing the Single Mom
Widowed mom Sofia Bingham needs a job -- fast! Her babies won't feed themselves. Working for real estate tycoon Eric Jenner is the perfect solution. But her childhood buddy is all grown up now…and tempting as hell. Surely one unforgettable night of passion wouldn't hurt? After that, they can go back to being all business!
But Eric doesn't agree that they should put their red-hot romance on ice. He can't deny his connection to Sofia's adorable twins -- or his consuming desire for their mother. What will it take to convince her that he's playing for keeps?
Good story that is a combination of second chances and friends to lovers. Sofia is a widowed mother of twin toddlers. After the death of her husband, she needed help and moved in with her parents, because she was having trouble making ends meet. She really needs a job with good pay and regular hours, when she sees an ad for an office manager for Eric's company. She takes a chance on applying, even though she isn't totally qualified.
Eric has made an incredible success of his company. He is known as one of the most eligible bachelors in Chicago. Ever since the end of his engagement, he has felt like there is a hole in his life. His friends are all settling down, but he is still alone. It is hard for him to know if a woman is interested in his money and position, or in the man that he truly is. He is stunned when he recognizes the job applicant as his childhood friend.
I loved the development of their relationship. Just seeing Sofia again reminded Eric of what good friends they had been when they were kids. He feels very protective of her and offers her the job right away, even though he has no idea if she can do it. I loved that scene as they point out each other's negotiating failures. But now that she works for him, Eric tells himself that she is off limits, even though he's very attracted to her and wants to get closer. It was really sweet to see the way that he tries to take care of her. Sofia is just as attracted to him. She doesn't see the ruthless businessman or the playboy billionaire. She sees the kind and handsome guy who was her friend when she was a kid. However, she also knows that mixing business and pleasure is a bad idea, especially since she really needs that job. Plus, she still sees herself as the housekeeper's daughter and therefore not good enough for the billionaire bachelor. I loved their business trip where she got a taste of his life. The passion flared between them, but a crisis back home left Sofia drowning in guilt over what happened, so she pushes him away. I ached for Eric because all he wanted was to care for Sofia and the kids. I loved the ending as Eric exposed his vulnerability along with his heart. I also loved seeing Sofia finally accept that Eric loved her for who she was. The epilogue was a sweet picture of the new family.
I really liked Eric. He has a reputation as ruthless in business, but underneath he is a good and honorable man. He doesn't fool around with his employees, though he does flirt lightly with some of them. Those same employees truly respect him, and I loved seeing the relationships he had with them. He was burned by love once, but it hasn't put him off the idea of finding the right woman. He also really wants to be a father and I ached for him over the disappointments in his past.