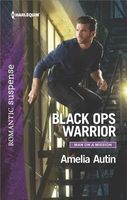 Series:
Man on a Mission
(Book 11)
An alpha hero falls for the woman he's sworn to take down
Help her. That's all Niall Jones can think to do when his target almost panics. Undercover operative Niall is tracking suspected traitor Dr. Savannah Whitman, but when she comes under threat, he can't help but swoop in to save her. And the sparks that fly between the secret agent and Savannah are anything but covert.
After a personal tragedy, Savannah decided to depart her high-security defense job to live life to the fullest. But she never expected to meet a sexy, mysterious stranger -- or for her very safety to be under siege…and enigmatic Niall is the only one who can protect her!
Oh, my. I have been waiting for Niall's story, and I have to say it was worth every minute of that wait. It opens with Niall stalking his prey - Savannah. He's been given the mission of discovering whether she is a traitor and the reader can see his resolve in doing what must be done. There is also immediate insight into his abilities as an undercover operative as "he assumed a role, he became the role."
I loved both Savannah and Niall. They are a perfect match for each other. Niall is cynical and suspicious of everyone, while Savannah is trusting and sees the good in those around her. Both have a strong sense of honor and bone-deep love of country which have made them who they are. Both also have an awesome sense of humor, and I loved how they would use it to lighten some of the more intense moments. Their teasing banter is fun but is also used to hide some of their vulnerabilities.
I loved the development of their relationship. Their first meeting set the tone right away. Niall's protectiveness kicks in when he witnesses her panic, and he knows just how to help her through it. He is also attracted to her, which is a complication he is not happy about. I loved Savannah's first reaction to Niall. First, the relief when he pulls her out of her panic attack, then the "holy cow" moment when she gets a good look at him. There is a brief moment of awkwardness because though she is confident when dealing with men in her work life, in social situations she isn't. But something about Niall puts her at ease, which opens her up to the attraction she feels for him. I loved her decision to include him in her "live life to the fullest" mantra. I loved their dinner together and his immense relief when he realized that she is innocent of the suspicions leveled at her. The chemistry between them was hot, but there was already something deeper growing. Savannah's reaction to his scar was moving, and the effect it had on Niall was immediate and scared him to death.
I ached for Niall because he quickly realized that Savannah was the one woman he could see being a part of his life permanently, but all he could see were the obstacles keeping them apart. The biggest one was the deception of why he was there to start with and his certainty that it would be unforgivable in her eyes. Every day they grew closer, and every day the pain of their inevitable parting got stronger. I loved how Savannah's love for Niall made her so attuned to him. Even after he confessed to part of who he is, she could see that he was still holding back. She accepted that he had secrets and tried to make him see that they did not affect her love for him, even after she found out the truth. Their reunion at the end was awesome. I loved how Savannah's presence so completely dumbfounded him. Her explanation of (and obvious pride in) how she tracked him down was great, as was her determination to fight for what she wanted. I loved how she shot down all of his concerns and his happiness as he realized just what it meant.
The suspense of the story was fantastic. The prologue set the scene with a premise that was realistic in today's world and hooked me right into the story. I liked that Savannah's innocence was quickly established without diminishing the intensity of the danger. The rapid escalation of the attempts to take Savannah and to eliminate Niall showed the desperation of the man behind it. While we know who he is early on, the identity of the "boots on the ground" players remain shrouded in mystery. There were several possibilities, and I could never quite decide which I thought it was. The final confrontation was intense, and my heart was in my throat as Savannah willingly made herself vulnerable. I loved Savannah's description of Niall as the "guided missile in the form of her warrior lover" as he came to her rescue.
I loved how the setting was as much a part of the story as any of the characters. The descriptions of the various sights were vivid and made me feel as though I was right there with Niall and Savannah. I especially liked the description of Savannah's combination of awe and disappointment at the Great Wall, as she had to deal with the effects of the crowds on her joy of being there. Having had similar feelings at other places, it made Savannah that much more of a real person to me.

I loved how this book touched on other books in the series, updating the lives of previous characters. I loved D'Arcy's involvement and his unspoken support of Niall's feelings for Savannah. I also enjoyed the evidence of the closeness of the Jones family and their support of each other. I laughed out loud at Niall's story of how he and his brother stole their father's car and Savannah's reaction to it. I also loved Keira's unquestioning assistance when Niall needed it and Shane's part in getting Savannah and Niall back together.

*I received an ARC which I voluntarily reviewed.